In Edmond Oklahoma, history coalesces with modern vibes, and the spirit of the community blossoms amidst the charming landscape. There is an abundance of things to explore in Edmond whether you are a local or a visitor, some amazing experiences await as you embark on the journey to discover its beautiful destinations.
Taste Fine Beer at The Patriarch
The Patriarch is heaven for beer lovers, a place where you can taste the most unique and flavorful craft beers. Situated in a beautifully revamped historic building, The Patriarch has been known to the locals to be a place where the community thrives amidst joy and merriment. The picturesque lawn which has been decorated with lights creates an inviting atmosphere for a long chat with friends, family, and other loved ones. The place has an extensive collection of craft beers. Tease your taste buds with the sour ale and the rich stouts because the atmosphere and vibe of this place are so captivating that you will yearn for more.
Also read: Things to Do in Yukon OK
Relax and Rejuvenate at Float OKC
Find an escape from the daily mechanical, monotonous routine life in the city, and spend some time nurturing yourself at the float center- Float OKC. Floatation therapy is the practice where individuals can effortlessly float on a warm solution of water and Epsom salt. It is a wellness therapy where the body and mind can relax as they feel weightless and calm from within. It is very effective for people who suffer from chronic pain. The float tanks at Float OKC are maintained well and offer an unparalleled experience of deep relaxation. Floatation therapy has innumerable health benefits like detoxification, improved blood circulation, among others.
Also read : Things to Do in Norman OK
Watch a Performance at The Armstrong Auditorium
The Armstrong Auditorium is a testament to the high cultural standards of the community of Edmond. With its magnificent design, performances from nationally and internationally acclaimed artists, and commitment to cultural education, it has been able to win the hearts of its visitors, locals, and tourists alike. Much of the popularity of the auditorium rests on the impeccable sound engineering which ensures maximum clarity and resonance. Art enthusiasts crowd the auditorium because of its top-class performances across an extensive range of disciplines. The auditorium has hosted musicals, operas, and theatrical performances which have stolen the heart of the audience and gifted them with an unforgettable experience.
Also read: Things to Do in Ardmore OK
Go Golfing at Mitch Park Disc Golf Course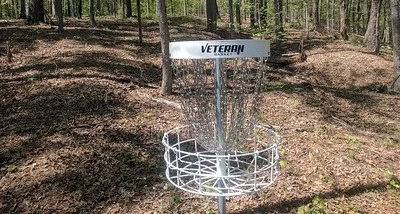 Whether you are a pro golfer or a beginner, Mitch Park Disc Golf Course will offer you an immersive disc golfing experience. Nestled amidst a picturesque landscape, the golf course offers stunning views of natural beauty. The golf grounds are well-maintained which is a pre-requisite for a delightful golf experience. The golf course has a total of 18 holes posing different challenge levels for experienced players as well as beginners. The Mitch Park Disc Golf Course hosts golf events and tournaments from time to time where players belonging to different skill levels and backgrounds can participate.
Also read: Things to Do in Ada OK
Take a Tour of E.C. Hafer Park
Spread over 121 acres, E.C. Hafer Park is a tranquil paradise for those who love to immerse themselves in the wonders of nature. As you visit the park, you will be greeted with greenery all around, providing an ideal picnic atmosphere. Unwind yourself in the natural beauty, and stroll around the park with your loved ones, this place offers ample options to unwind and relax. The park has a small lake where you can go fishing or observe the wildlife in and around the area. The natural habitats of the park are home to a huge variety of birds, making it a perfect place to visit for birdwatchers. If you are planning to visit the park, don't forget your binoculars.
Also read: Things to Do in Sallisaw OK
Savor Exquisite Wine at Clauren Ridge Vineyard and Winery
If you are a wine enthusiast, then Clauren Ridge Vineyard and Winery will steal your heart with its collection of exceptional wines. To reach this vineyard, you will have to travel a few minutes from downtown Edmond. This family-owned winery has been known for having a wide variety of grapes which includes Merlot, Syrah, and Chardonnay, among others. You will be able to sense the impeccable craftsmanship and high-quality ingredients with every sip of their wine. The vineyards are surrounded by a serene landscape, a place where you will be able to enjoy the charm of nature while sipping on your favorite wine. The place has been known for the exquisite taste of its red, white, and sparkling wines. 
Also read: Things To Do In Thackerville OK
Explore Culture and Heritage at Edmond History Museum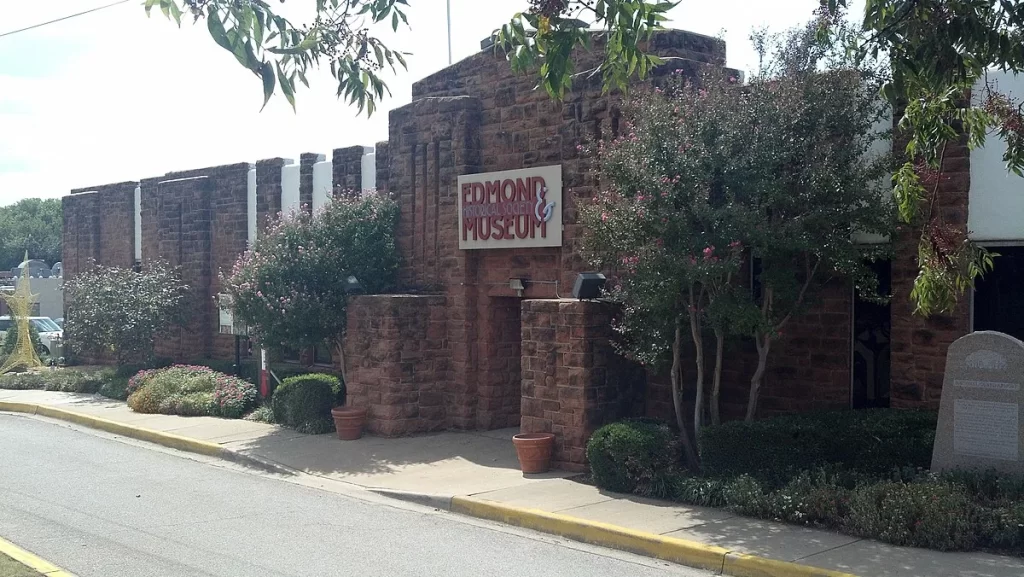 Edmond History Museum showcases the rich history of the charming city of Edmond. If you are a history enthusiast, you are sure to be enthralled by this journey through time where you will get a glimpse of the society from the era of the early settlers to the present thriving community. Edmond History Museum is situated in the revamped Armory building which in itself presents a slice of the past. The building had originally been constructed in 1936 as a training facility for National Guards, thereafter it had been converted into a museum in the year 1987. A miscellaneous collection of exhibits and artifacts are displayed in the museum, thus providing the locals and visitors with an opportunity to connect with the past of this vibrant city.
Also read: Things to Do in Chickasha OK
Immerse in the Joy of Pottery Painting at Unpluggits Paint and Play
Unpluggits Paint and Play is known for its warm, cozy, and inviting atmosphere. This ceramic and craft painting studio has been designed keeping in mind family-friendly spaces where creativity can thrive. The studio welcomes people of all ages to give wings to their artistic talents through the medium of painting, and the creation of different crafts. Upon entering the studio with its charming interior and friendly staff, visitors are instantly transported to a world where their imagination finds colors. The space has specifically been curated so that the children can take a break from the digital space and participate in activities fostering imagination and creativity.
Also read: THINGS TO DO IN POTEAU OK
Enjoy Water Activities at Pelican Bay Aquatic Center
If water-based adventures excite you, then head straight over to Pelican Bay Aquatic Center. From water slides to shallow pools, the center is filled with exciting water-based activities which you can enjoy with your family and loved ones. The park provides a safe environment for the little ones in the kiddie area so that they don't miss out on the fun. Enjoyable activities like water play structures, and miniature slides have been designed keeping the children's safety in mind. The center has a lot of shaded spaces where you can sit and relax after back-to-back fun water activities. If you are in Edmond don't miss out on this place, splash your way to create lasting memories. 
Also read: Things to Do in Oklahoma
Visit the Tranquil Lake Arcadia
Lake Arcadia is a hidden gem in Edmond, Oklahoma. The tranquil waters of the lake provide a perfect spot for a peaceful retreat. The lake is spread over 1820 acres and is an abode to a wide range of fish species. The lake is surrounded by lush green landscapes making it an ideal escape from the mechanical life of the city. Whether you want to go boating, fishing, or spend some quiet moments by the lakeside, you will find myriad ways to while away your time here. Furthermore, there are a lot of hiking trails where you can go for a leisurely stroll and witness the splendor of the flora and fauna.
Also read: Things to Do in Hochatown Oklahoma
Enjoy Handcrafted Beers at Frenzy Brewing
For the ones who are enthusiastic about craft beers, Frenzy Brewing comes off as a beloved destination. The fame of the brewery rests on its wide range of handcrafted beers. From rich stouts to revitalizing pale ales, Frenzy Brewing has something for every palette. The brewers here experiment a lot with their flavors and come up with innovative brews. Visit their tasting room where you can socialize and taste some of their experimental flavors. Additionally, the brewery often hosts events like live music performances, and game nights where you can bond and connect with other beer enthusiasts.
Contribute to Sustainable Food System Through Urban Agrarian
Nestled in the heart of Edmond, Urban Agrarian, a grocery store is committed to its vision of a sustainable future. By creating a bond between the urban population and the local farmers as well as producers, the store has given rise to a movement that is dedicated to nurturing Oklahoma's agricultural practices. Urban Agrarian is the go-to place in Edmond for fresh products that are locally sourced ranging from meat to vegetables and dairy products. By forming an alliance with the local farmers and food artisans, the store directly sources their fresh produce while compensating them well for the labor that they put into agriculture.
Also read: Things To Do In Moore OK
Spend Some Relaxed Time at Chitwood Park
One of the favorite spots of children in Edmond is Chitwood Park. This cozy park offers a relaxed time away from the noise of the city. With its wide array of recreational activities, it has become a favorite spot for outdoor enthusiasts. Even for the ones who are willing to spend some quiet time away from the hustle of the city, there are plenty of shaded spaces where you can sit and relax or organize a small picnic with your loved ones. The park features a playground, basketball courts, and soccer fields where sports enthusiasts can enjoy their time. 
Also read: THINGS TO DO IN PAWHUSKA OK
Give Wings to Your Creativity at AR Workshop
AR Workshop in Edmond provides individuals with a space to explore and unleash their creative side and socialize with like-minded people. Here individuals can curate DIY crafts with the help of guidance from instructors. Add a personal touch to your gifts by making them all by yourself- from accessories to home décor items, you can make them all by yourself with a little help from the instructors. Whether you are a beginner or a skilled artist, this space provides ample opportunity to translate your imaginative version of a piece of art into reality. Bond with fellow participants of the workshop- explore, share, and provide inspiration to one another.
Visit the University of Central Oklahoma Jazz Lab for the Ultimate Musical Symphony
The Jazz Lab of the University of Central Oklahoma is regarded as a hub of music and culture. It has a reputation for nurturing skilled musicians who harbor a love for Jazz. The main highlight of this lab is its top-notch live musical performances which explore diverse jazz styles like Latin, fusion, and others. The lab provides a pedestal for local artists as well as nationally acclaimed musicians to perform and immerse the guests in the world of musical enchantment. The Jazz Lab has a very cozy and inviting atmosphere where the guests can get a glimpse of the performances up close.
Also read: Things To Do In Tahlequah OK
Enjoy Craft Cocktails at Round Midnight Bar and Jazz Lounge
Round Midnight Bar and Jazz Lounge is a popular destination among the locals in Edmond. From its live music to exceptional craft cocktails, Round Midnight has created a warm and inviting atmosphere where a sense of camaraderie is fostered among the visitors. The dim lighting and nostalgic interiors have created a perfect ambiance for the local and national artists to showcase their musical skills, especially jazz performances. The main highlight of this bar cum lounge is its diverse range of handcrafted cocktails. The bar also has a section for non-alcoholic beverages. Enjoy a night of rhythmic delight with delectable food and handcrafted cocktails and make special memories at Round Midnight Bar and Jazz Lounge.
Give Your Adrenaline a Healthy Boost at Breakaway Indoor Playground
Breakaway Indoor Playground is a fun family-friendly area that is stacked with recreational options. With its huge play areas, it has become one of the most frequented spots for children and their families. The playground has a lot of options for its young visitors to enjoy their time. From exciting slides to climbing structures, children get ample time out of the digital world and actually engage in physical activities in the play zones. The playground has also curated special packages for events like birthday parties and get-togethers to provide an engaging and memorable experience. 
Also read: Things To Do In Durant OK
Immerse Yourself in the World of Paintings at Paint Your Art Out
For the ones who are seeking a creative escape from the daily grind, Paint Your Art Out offers an amazing experience. Whether you are a beginner in painting or have some experience in artistry, you will thoroughly enjoy the guided painting sessions in the studio. The warm and inviting atmosphere of the studio allows the participants to shed away their inhibitions and create a wonderful piece of art that they will forever cherish. The instructors offer personal guidance to the participants so that they can create their unique paintings, thus fostering a sense of self-confidence. 
Also read: THINGS TO DO IN MIAMI OK
Vent Your Stress at Break Room 405
Break Room 405 is a unique place where visitors can vent their pent-up anger and stress in the most unconventional method. It offers a controlled atmosphere where individuals can go through a cathartic experience by breaking and smashing a wide variety of objects ranging from glassware to furniture. The venue is committed to providing a safe environment for its visitors. There is an arrangement of protective gear like gloves and coveralls so that individuals do not end up harming themselves. Furthermore, it is taken care that there is expert supervision while the activities are taking place. Break Room 405 offers an exhilarating and liberating experience to the participants through these activities to release stress, anger, and other extreme emotions. 
Also read: Things To Do In Owasso OK
Get Enchanted by the Charm of Edmond Unplugged
Take some time out of your screens and visit this beautiful destination where you can relax and rejuvenate. Something which instantly strikes you as you enter the venue is the homely ambiance and the rustic charm. This place highly motivates visitors to spend some time living in the present moment without getting hooked on gadgets. Edmond Unplugged has an impressive collection of board games. From Monopoly to Scrabble and Ticket to Ride, there is an extensive range of games that you will be able to enjoy with your friends and family. The venue also hosts a number of workshops dedicated to fostering creativity and learning. The café has a range of options to munch on while you enjoy your game sessions.
Buy Gifts for Your Loved Ones from Painted Tree Boutiques
Painted Tree Boutiques has been deemed to be a paradise for shopaholics. With its range of unique items, this store is sure to blow your mind. The store presents the local artisans and craftsmen with a pedestal to showcase their talent and skills. The store is always squeaky clean and well-maintained, with each corner holding an element of surprise for its visitors. From funky keychains and wall hangings to sunglasses and other accessories, each item here contains a bit of a personal touch. If you are looking for a thoughtful gift to present to your loved ones, Painted Tree Boutiques will surely live up to your expectations.
Also read: THINGS TO DO IN GUTHRIE OK
Go Golfing at River Oaks Golf Club
The prestigious River Oaks Golf Club has been deemed to be one of the finest and most well-maintained golf courses in the city. The course offers stunning views of the picturesque beauty of the surrounding landscape. Even if you are a beginner who wants to learn more about the sport, the club will present you with a memorable experience. The golf course has 18 holes which have been designed keeping in mind different skill levels. The club also has a number of facilities and amenities like dining options, and a pro shop, to provide the golfers with a well-rounded experience.  If you are not fond of golfing, you can sit and enjoy the tranquil atmosphere and the natural beauty of this place.
Also read: Things To Do In Altus OK
Create Fun Bowling Memories at AMF Boulevard Lanes
AMF Boulevard Lanes is a popular bowling alley where you can enjoy your time with your family, friends, and loved ones. The alley boasts a range of facilities and amenities which have been designed to amplify the bowling experience. One of the main highlights of this alley is the wide range of bowling leagues that it has provided for different interests. There are leagues for competitions and casual games, along with youth and adult leagues. Bowling sessions provide an opportunity to meet people with similar interests, connect and forge friendships. Whether you are looking for a casual game to while away your time or are a serious player, AMF Boulevard Lanes will provide you with a happy and enjoyable experience.
Also read: Things To Do In Tishomingo OK
Enjoy a Delicious Meal at Majors
To end your day with a delightful meal and a drink, head over to Majors. As soon as you enter Majors, you will be greeted with a cozy and inviting atmosphere. The place has a karaoke option which has a varied collection of music to instantly lift your mood and elevate your spirits. Grab a beer and enjoy the charm of the place. At Majors, customer service is the first priority. The warm hospitality of the staff will enhance your dining experience. Spend some chill time playing darts and pool, while you enjoy your chilled beer. 
Also read: Things to Do in Sulphur, OK
Aim for New Heights at Blocworks
If you want to enjoy some thrill and adventure, then visit Blocworks, to witness the thrill of rock climbing. Whether you are a beginner or have some experience in climbing, Blocworks will encourage you to push your limits to their furthest extent. At Blocworks, safety is the first priority. Certified instructors are available in this rock-climbing gym, who guide and train the participants with proper techniques enabling them to learn the basics and aim for tougher climbs. At Blocworks, you can meet and connect with fellow climbing enthusiasts, foster friendships, and share your experiences with each other.
Enjoy Ice Skating at Arctic Ice Arena
Winters bring along a lot of activities. One of these activities, which can be enjoyed by people of all ages, is Ice Skating. Arctic Ice Arena boasts of its well-maintained ice rinks which provide a smooth surface for the skates to slide on. If you are a beginner, you can find skilled instructors in the rink who would teach you about the basics of skating. Arctic Ice Arena also organizes public skating sessions, where individuals from all backgrounds and ages can participate in fun-filled skating activities and create everlasting memories. 
Also read:
Indulge in Wellness Practices at Balance. Yoga. Barre
Balance. Yoga. Barre offers a tranquil atmosphere where you can unwind and find inner peace through yoga. There are a variety of classes catered to meet the needs of the participants. From gentle yoga flow classes to strength development classes including Pilates and targeted exercises- they aim to take the individual on a wellness journey. Additionally, the center has organized massage therapy sessions, reiki healing, and nutrition consultancies to improve the holistic well-being of an individual. It has been universally acknowledged that workouts and yoga help in releasing pent-up stress, and tension, and nourish the body. Balance. Yoga. Barre takes on the task to help individuals find balance within the mayhem of everyday life.
Apart from being a treasure trove of surprises for its visitors, Edmond Ok brings forward a thriving community of people who find peace within diversity and foster a sense of belongingness. Whether you are a visitor or are here for a short-term stay, the city will captivate you with its charm and amiability. From recreational activities to its rich history, Edmond has something to offer for everyone.