Norman Oklahoma has been known for its warm hospitality, welcoming atmosphere, charming small-town beauties, lively culture, and rich heritage. The presence of the university in this city fills the air with a vivacious spirit- an energy that will double up your excitement for this tour. Explore the captivating museums and galleries, enjoy local delicacies, and strike up a conversation with the locals, Norman is filled with activities to ensure that your heart is filled with joy by the end of your tour.
Explore History, Art, and Culture at Fred Jones Jr. Museum of Art
Dating back to 1936, The Fred Jones Jr. Museum of Art had been originally built as the art collection of the University of Oklahoma. In the span of these years, it has been able to establish its legacy and is now a renowned institution. Fred Jones Jr. – a philanthropist and businessman of Oklahoma played a significant role in the expansion of the museum with his donations and contributions. The museum is filled with exhibits from different eras and of different styles and mediums. Works of many well-known artists like Thomas Moran and Charles Marion Russell have been featured in the museum. Marvel at the exquisite collection of masterpieces that the museum boasts of. The museum also hosts exhibitions from time to time to add to its permanent collection.
Also read: Things to Do in Ardmore OK
Deepen Your Knowledge of Natural History by Visiting the Sam Noble Oklahoma Museum of Natural History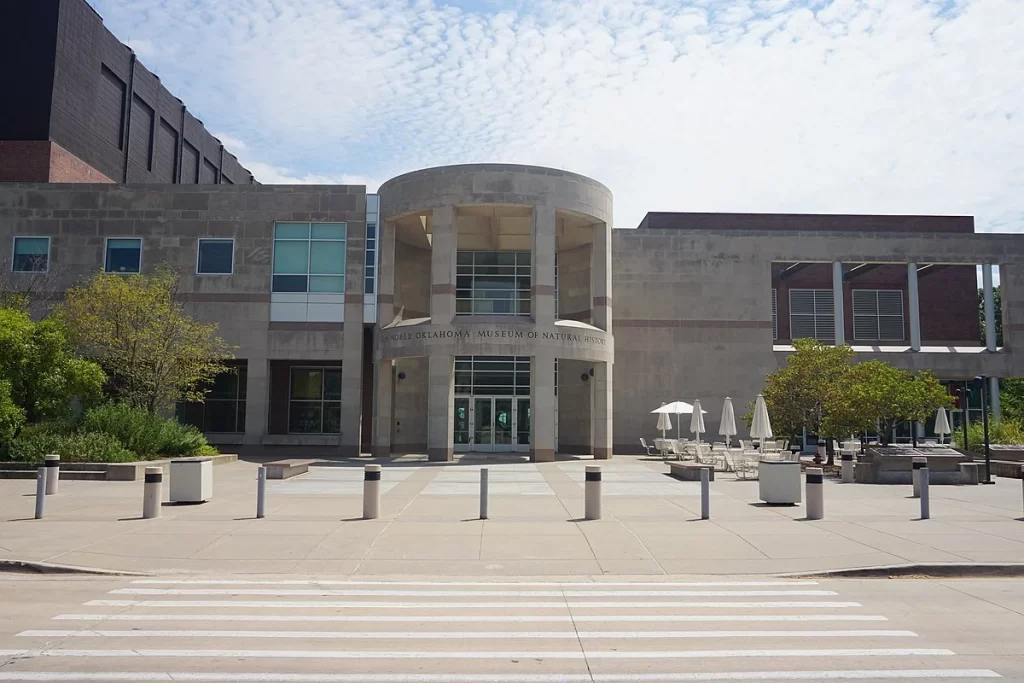 The Sam Noble Oklahoma Museum of Natural History is a treasure trove of exhibits, artifacts, and fossils that will take you on a captivating journey into the past where you will be able to broaden your understanding of the natural world and its facets. The museum features a hall that showcases a vast array of fossils and skeletons belonging to the age of dinosaurs, this hall is called the Hall of Ancient Life. By taking a walk around the museum, you will be able to gather a thorough understanding of the rich culture and heritage of the native tribes of Oklahoma through the collection of exhibits including artifacts, pottery, artwork, and intricate beadwork. Furthermore, there is a discovery room aimed at providing a hands-on learning experience to young history enthusiasts where they will be able to dig for fossils, scrutinize animal specimens and take part in the interactive displays.
Also read: Things to Do in Ada OK
Traverse Oklahoma Memorial Stadium and Pay Homage to the Football Legends
Situated on the campus of the University of Oklahoma, the Gaylord Family Oklahoma Memorial Stadium is one of the most popular football cathedrals in America that is housed within an educational institute. The stadium stands as a symbol of the spirit of the game and also pays homage to the legends of football. The museum had been established in 1923 and has witnessed how football has evolved over the decades. The stadium's name serves as a respectful tribute to the sacrifices made by the Oklahomans during the First World War. The stadium can accommodate over 80,000 people at once where spectators, players, and visitors mingle to create an electrifying atmosphere. Apprehension, agitation, and anticipation will fill the stands as soon as your favorite team enters the ground. Witnessing the game day as a spectator or a fan will surely provide you with a memorable and unforgettable experience.
Also read: Things to Do in Sallisaw OK
Visit the Artistic Paradise- Firehouse Art Center
If colors, art, and expression and deliverance of a message by non-verbal medium intrigue you, then head over to Firehouse Art Center, a non-profit community organization that brings together local artists, art enthusiasts, and trainees. The building had originally been built in 1948 and was once a fully functional fire station. The center now stands as a symbol of the community's passion for creativity and artistic expression. As you enter the Firehouse Art Center, you will find yourself amidst a curious range of artistic expressions that will surely captivate you. Three galleries are housed within the center and exhibitions are always up in the galleries on a rotational basis. The center offers educational programs for art enthusiasts to hone their skills and knowledge. Enroll yourself in one of these courses if you want to unleash your creativity.
Brace Yourself for Ultimate Entertainment at Riverwind Casino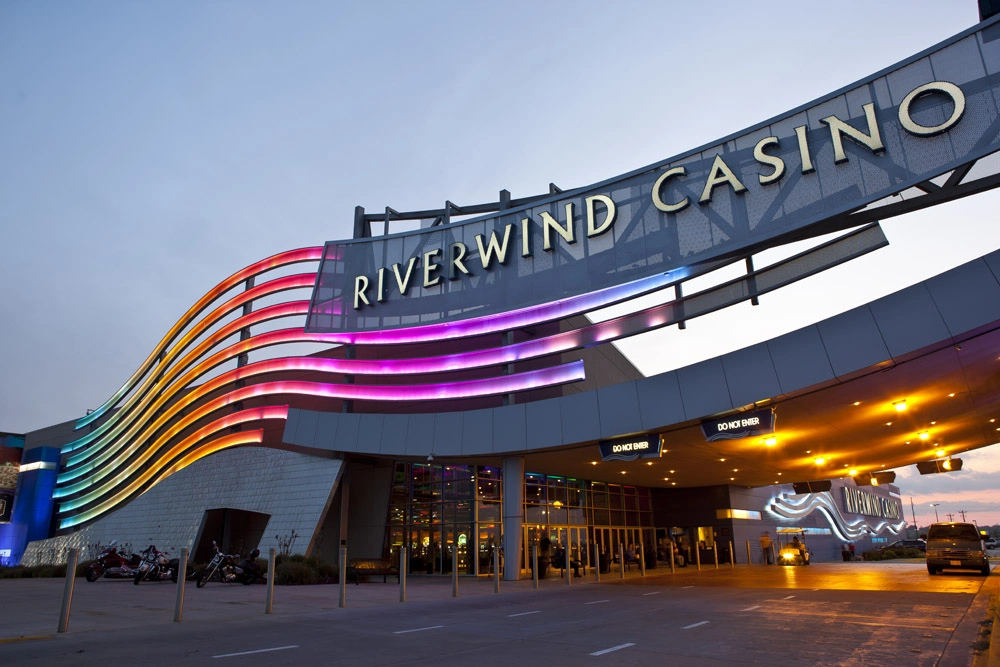 Are you searching for a single place where you can find food, live shows, entertainment, and accommodation all at once? Look no further than Riverwind Casino, the one-stop destination to ensure the full enjoyment of your trip. The casino is spread over a sprawling 219,000 square feet and is one of the largest casinos in the state. With a dedicated poker room, slot machines, and table games, you will find yourself in a gamer's paradise. Whether you are a novice or a pro gamer there will be a vast array of options for you. After a quick gaming session, head over to their food court to hog on a delectable meal. What makes the casino so popular among visitors and locals alike is its live entertainment shows. From stand-up comedies to musical nights, their shows are always a hit.
Also read: THINGS TO DO IN PINEHURST NC
Go for Wine Tasting at Native Spirits Winery
This family-owned winery is a hidden gem that produces exceptional wine and has beautifully captured the Native American Spirit. As the name of the winery suggests, its founders Randy and Linda Odom have paid tribute to the natural beauty of the land and clubbed it with their passion for winemaking. The high-quality wine of this place reflects the unique taste and flavor of Oklahoma. Visit the vineyards spread across the scenic landscape and get a chance to witness the process of winemaking. The real magic of this place lies in their tasting room. Whatever your palate might be, there will be a wide range of options to suit your need. From red to white and fruit wines, the taste will remind you of the distinctive flavors that this place is known for.
Go Fishing at Lake Thunderbird State Park
The calm, serene, charming, and enchanting Lake Thunderbird State Park is located in the east of Norman City. Spread over 1874 acres of beguiling landscape this place offers a warm retreat to nature lovers and outdoor enthusiasts. Witness the diverse flora and fauna, and participate in a range of recreational activities to make the most of your visit to this beautiful place. Fishing is one of the most popular activities in this state park since the lakes are an abode to a variety of fish like largemouth bass, crappie, sunfish, catfish, and many more. You can even go boating and enjoy the scenic beauty of the surrounding landscape. The park also offers trails for biking and hiking where you can spot many of the local wildlife, and rare trees and flowers.
Also read: Things to Do in Chickasha OK
Take a Tour of the Past in the Historic Campus Corner District
The Campus Corner District of Norman has weathered the test of time. This place is regarded as the hub of culture, intellect, and vivacious spirits. This neighborhood is the abode of the University of Oklahoma and boasts of a rich history that has numerous stories to narrate from the past. The Campus Corner district had been established in the early 1920s owing to the needs of the community belonging to the University of Oklahoma. One of the main highlights of the Campus Corner district is its charming architecture. There is a wondrous combination of historical buildings with a modern twist. This instantly showcases how the area has evolved over the past. The neighborhood serves as a heavenly abode for those who are enthusiastic about art and culture. From art galleries to live music venues and theatres- the area has it all. Don't forget to immerse yourself in the charm of this place if you want to be inspired for the days and years to come.
Also read: THINGS TO DO IN POTEAU OK
Gather Knowledge About Meteorological History in National Weather Museum and Science Center
The National Weather Museum and Science Center is a distinctive destination where you will be able to acquire knowledge on all things related to science and meteorology. With the help of its enthralling exhibits and communicative displays and educational programs on the science of weather and climate, it takes visitors on an immersive journey into the world of weather and science. A tour of the museum can be an enriching experience for people of all ages especially the ones who are curious about knowing the science behind extreme weather events, day-to-day weather changes, and other meteorological events.
Visit Tribe 131 for a Taste of Native Authentic American Art
The Tribes 131 gallery showcases a range of artistic endeavors by the indigenous people. The artistic traditions of the Native Americans have been beautifully brought out in this gallery. Each work of art has a different story where the artist's mind is reflected in their work of art. From intricate beadwork to paintings, sculptures, and pottery- the gallery is filled with displays that boast of the native heritage and culture. The gallery also hosts cultural events and workshops through which they ensure that the visitors leave with a wealth of knowledge about the indigenous communities and their artistic landscape.
Witness a Performance at Sooner Theatre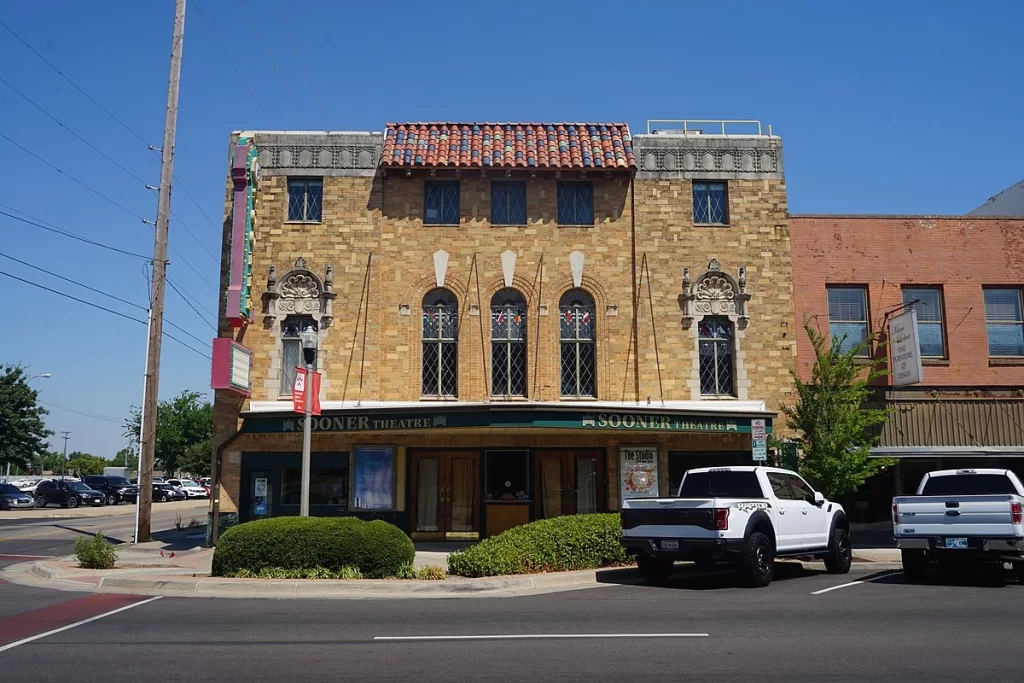 In the heart of Norman, lies the Sooner Theatre which is viewed as a cultural landmark in the community. The theatre had earlier been known as the "University Theatre" and its typical Spanish Gothic Revival-style architecture is truly a marvel. The whole architecture with its intricate details exudes grandeur and sophistication. The theatre hosts a varied lineup of performances and often showcases local talent, thus providing them with a necessary pedestal. Attending a performance at the theatre will leave you mesmerized whether it's a dance recital or a musical or a play. The theatre fosters a necessary environment required for communities to thrive by organizing educational programs, workshops, and other events that are meant for budding artists regardless of their age.
Also read: Things to Do in Hochatown Oklahoma
Honor the Legend- Visit James Garner Statue
The James Garner statue in Norman had been erected to pay tribute to the legacy left behind by James Garner, the actor who had been able to charm the audience with his perfect acting skills. His contribution to the world of entertainment and the impact that he had throughout his career is commemorated through this statue. The statue is located in Legacy Park and is visited by a huge number of his fans to date. The statue has been a source of inspiration for the ones who dare to pursue their dreams with conviction in their abilities and faith in themselves.
Discover Oklahoma's Biodiversity at Discovery Cover Natural Center
If you are looking for a place that would provide you with the necessary peace of mind from the busy mechanical city life then this serene sanctuary- Discovery Cove Natural Center should be on your list. The sanctuary connects the visitors with the biodiversity of Oklahoma. Explore the rare flora and fauna native to the city as you walk through the scenic trails. The primary motive of this center is to make people more aware of the necessity of conservation in the era of rapid environmental depletion. The center gears its efforts toward a sustainable future. Various programs like recycling, and water conservation among others are offered from time to time which aim at providing and circulating the message of using our natural resources judiciously.
Also read: THINGS TO DO IN IDABEL OKLAHOMA
Experience the Cultural Heritage of the Norman Community by Visiting Lloyd Open Theatre
Culture and heritage are upheld with the utmost respect in Norman, Oklahoma. Thus, the city is dotted with platforms that showcase local talents and pay tribute to the native art and culture. The Lloyd Open Theatre is one such place. You will surely find yourself immersed in the exceptional performances that are staged at the Lloyd Open Theatre. From historical dramas to musicals and comedies, Lloyd thrives because of its ability to entertain and enthrall the audience. With its wide range of art performances, the theatre always has something or the other in-store that resonates with the audience.
Go Boating at Calypso Cove Marina
If you are enthusiastic about boating and take particular interest in water sports then Calypso Cove Marina will provide you with an unforgettable experience. Located on the shores of Lake Thunderbird, this place is a perfect retreat from the unnecessary noise and bustle of city life. Immerse yourself in the lap of nature where you will be able to enjoy both water adventures and relaxation as per your wish. Lake Thunderbird is packed with water activities, but boating is the most popular choice for visitors. Rent a boat or a kayak and enjoy the natural beauty of this idyllic setting. The coves and the inlets are the main highlights of Lake Thunderbird so make sure to explore them.
Also read: Things To Do In Moore OK
Explore the Wonders of Nature at George Miksch Sutton Urban Wilderness Park
Away from the busy chaotic city life is this hidden gem- George Miksch Sutton Urban Wilderness Park, a tranquil space offering the best views of the surrounding landscape. Spread over 146 acres, this wilderness park attests to the commitment of the community of Norman toward a sustainable future. There is a diverse network of trails in this park which will allow you to reconnect with nature. Whether you are a pro hiker or are looking forward to a casual stroll, these trails will be accessible to you. If you are enthusiastic about birdwatching, then consider this place as a paradise. Due to its rich biodiversity, this place is home to a lot of bird species throughout the year. Bring your binoculars and get ready for an unforgettable birdwatching experience.
Shop for the Latest Trending Fashion at Dillard's
Dillard's is one of the most popular departmental store chains that has its outlet in Norman. Known for its quality clothing and fashionable pieces, the store has a thriving business in Norman. With a wide range of choices in your hand, you are sure to find something that is tailor-made to suit your needs and make you look classy and elegant. The store also has some excellent pieces of accessories in stock so if you are a fashion enthusiast you will have a gala time shopping for yourself. The store is packed with top-designer brands that you won't be able to take your eyes away from.
Also read: THINGS TO DO IN PAWHUSKA OK
Watch a Theatrical Performance at Donald W. Reynolds Performing Arts Center
Immerse yourself in captivating performances by the artists at Donald W. Reynolds Performing Arts Center. A diverse range of artistic disciplines finds its expression on the pedestal of this Center. From dance to music and theatre, there is a vast array of performances that are hosted on this stage that caters to different tastes. The shows feature both local and international artists who bring in their creative talents and leave the audience awestruck. This place has been known to be the pivot of cultural exchange. The place fosters a sense of community growth where ideas on artistic expressions are exchanged and like-minded people gather.
Unleash the Gamer Within You at Thunderbird Casino
If you are looking for a night full of entertainment and excitement then visit Thunderbird Casino for an intense gaming session. With its lively atmosphere, finger-licking food options, and a vast array of options for gamers, this is the ideal way to make the most of your nights in Norman. With its slot games, poker, table games, and other electric games you will find more than one options that will be according to your skill level and proficiency. The poker room often hosts tournaments with lucrative prizes for the winner. The restaurant of the Casino, The River Bar and Grill, comes with a range of options for the foodie. From steaks to salads, you will find yourself spoilt for choices. Head straight over to the restaurant after a gaming session for some mouthwatering delicacies.
Also read: Things To Do In Tahlequah OK
Go Shopping at S&J Marketplace
If unique and high-quality items catch your attention and if you are a shopaholic, then you must visit S&J Marketplace. A vast array of products is available in this marketplace which will instantly grab your attention. From vintage items to clothing, and accessories that are locally sourced, the market is filled with products that are mostly made by local artists and artisans. This market is committed to the cause of supporting local businesses. Small-scale vendors make use of this platform to display and sell their goods. Therefore, as you shop from S&J Marketplace, you will be contributing to a thriving ecosystem of local businesses. If you have a shopper's eye then you are sure to stumble on unique, high-quality products whether it's home décor or clothing, or jewelry.
Visit the Architectural Marvel- Moore Lindsay Historical House Museum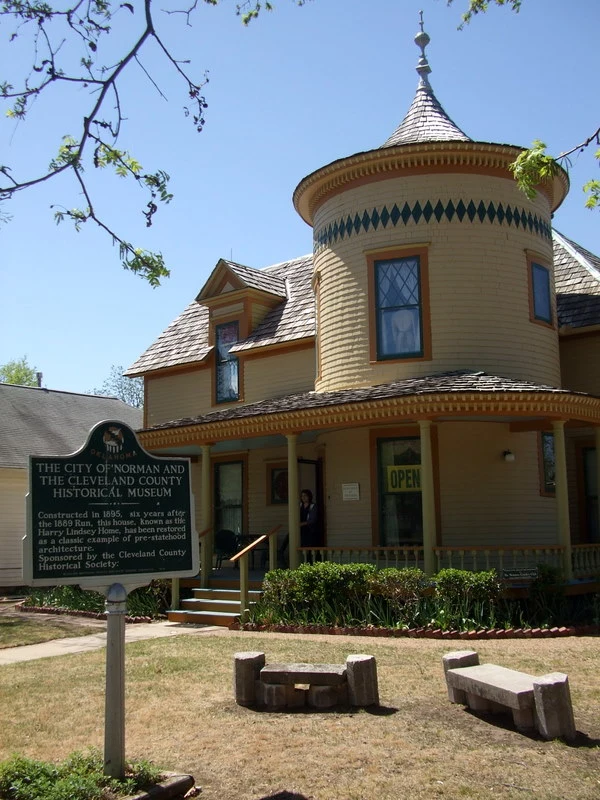 The rich history of the city is perfectly encapsulated in the Moore Lindsay Historical House Museum. With its grand architecture and exhibits that boast of the heritage and legacy of this city, the museum has been able to attract a lot of spectators. The Museum had been built in 1899 and has a regal touch in every corner. From intricate woodwork to vintage furniture, the museum has been able to paint a clear picture of the early 20th Century life. The museum consists of a huge number of artifacts and photographs which offers clear insight into the daily life of the people during that time.
Also read: Things To Do In Durant OK
Go for a Joy Ride at Ruby Grant Park and Playground
Our life is made of simple moments in which our heart is content and at peace. Ruby Grant Park and Playground beautifully blend the charm of outdoor recreation, an engaging environment, and community participation. With a vast range of amenities, scenic trails, and huge playgrounds, this place serves as a perfect picnic spot where people can connect, socialize and rejuvenate. A number of events are hosted throughout the year in this park allowing people to come together, engage and participate for sheer joy and excitement. The park is packed with activities for children like the slopes, swings, and slides.
Also read: THINGS TO DO IN MIAMI OK
Taste Extraordinary Beer at Black Mesa Brewing
With an inviting atmosphere and outstanding craft beers, you are sure to double the fun of your visit to Norman at Black Mesa Brewing. To provide its customers with a unique tasting experience, every pint of beer is carefully curated and speaks of its quality. The excellent craftsmanship of the brewers can be tasted with every sip you take. The brewery has thus been able to emerge as a popular joint for beer lovers who connect, socialize and engage in the exceptional tasting experience. The brewery has a lot of options available for beer enthusiasts ranging from their classic style to more innovative ones.
Explore Cross Pointe Church
Faith, service for the good of others, and worship conglomerate at Cross Pointe Church in Norman. For the residents of the city, the church is synonymous to hope and faith. By nurturing a sense of belongingness and community, the church has been able to become a pivotal part of the Norman community. The church is committed to creating an inclusive environment, thus visitors from different backgrounds can be found inside the premises of the church. An integral part of the services of the church includes its outreach service where food drives and donations are organized so that the underprivileged people can benefit from it.
Also read: Things To Do In Owasso OK
Shop for Antiques from Robinson's Repurposed
Decorate your home with statement vintage pieces from Robinsons Repurposed. This antique store has been carefully curated in accordance with the choices of maximum visitors. There is a fusion of the old and the new in this store. From repurposed furniture to home décor items, the store is filled with statement pieces and goods with character. The creativity and craftsmanship of the store owner and the artisans are awe-inspiring. The friendly staff and the top-notch customer service are one of the main reasons for which the store has gained a lot of popularity. If you are searching for that one piece of fine furniture that will be the central piece of attention in your living room or your bedroom, then do visit this place.
Eat till your Heart is Content at The Winston
With its welcoming atmosphere, cozy décor, and friendly behavior of the staff, The Winston has emerged as one of the most popular restaurants for foodies. The Winston is primarily known for its culinary delights- whether you are going for brunch or dinner, the staff will go above and beyond to ensure that you are returning home satisfied. The dishes are prepared with fresh local ingredients and hit at the right spot. The Winston has also made a place in the heart of the guests for the unique flavor of its cocktails. If you are a food enthusiast, looking forward to a gastronomic delight, then this place should be one of your top choices in the area.
Also read: Things To Do In Altus OK
Your Hunt for Authentic Barbeque Should End at Ray's BBQ
Who doesn't love slow-cooked tender and juicy meat? A meat lover would sense the strong aroma of authentic barbeque from far away, and if you are in the mood for a feast then head over to Ray's Barbeque. From juicy pulled pork to chicken and beef, Ray's Barbeque boasts of its authenticity. The trademark of an authentic barbeque is its smoky flavor that makes you crave more. The chefs at Ray's have perfected this art with their years of practice. Tender meat cooked to perfection with a variety of side dips are sure to soothe your tastebuds and satisfy you with a hearty meal.
Also read: Things to Do in Sulphur, OK
Conclusion
Norman is packed with a plethora of tourist attractions. One of the main highlights of the Norman community is its welcoming attitude. You can spend hours striking up a conversation with a local without feeling like a mere visitor. Whether you are a foodie or an outdoor enthusiast, Norman will spoil you with choices. Immerse yourself in the charming beauty of the city and gear up for an unforgettable experience.