Located in Jackson County, Oklahoma, Altus is a charming small town boasting a vibrant culinary scene. Serving a unique blend of Southern hospitality and delicious dining experiences, the restaurants and bars in Altus are sure to tantalize your taste buds.
The town is a captivating playground for epicurean enthusiasts, where the boundaries of culinary innovation are pushed, and gastronomic wonders come to life. Prepare to embark on a remarkable culinary odyssey as you step into Altus, a place where innovative gastronomic creations dance harmoniously, entwining flavors, textures, and aromas to orchestrate a symphony of unparalleled culinary bliss.
So loosen your belt, raise your glass, and join us as we unveil the most unique and unforgettable dining experiences in Altus Oklahoma. Let's check best restaurants and bars in Altus OK!
Also read: Things to Do in McAlester Ok
1. The Plaza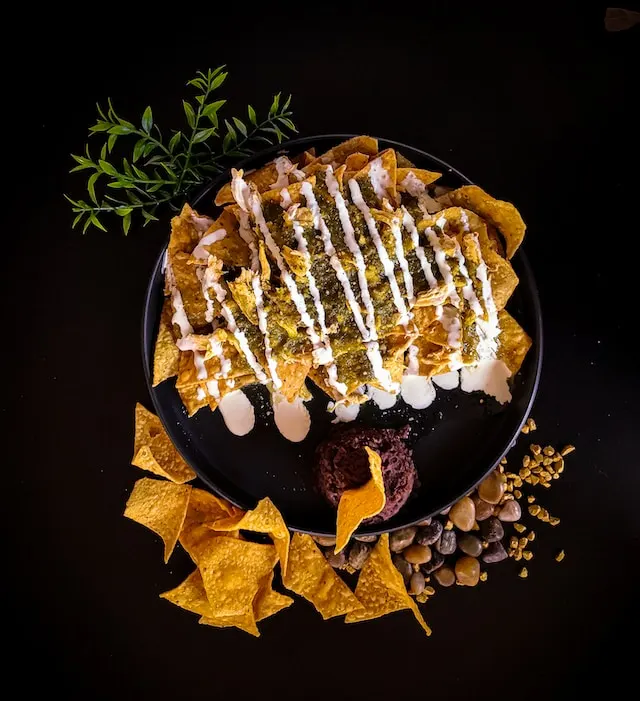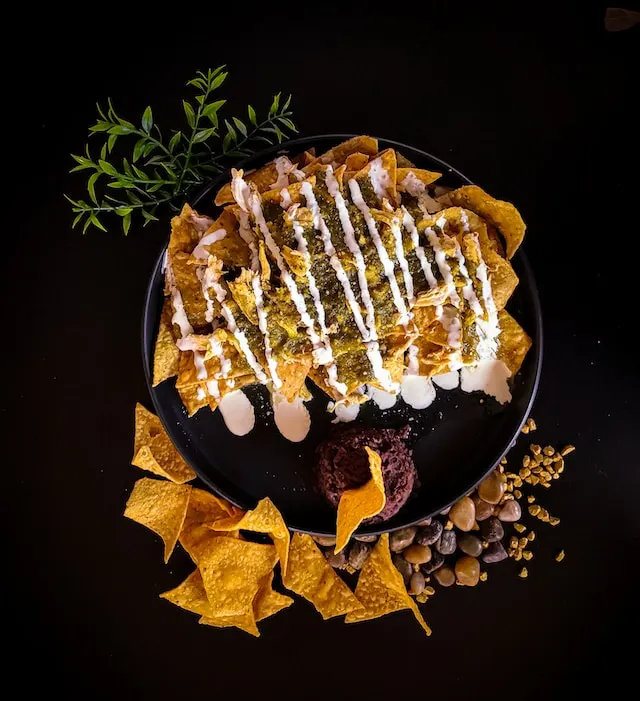 If you're yearning for a taste of Mexico right here in Altus, look no further than the Plaza Restaurant. This culinary gem is an oasis for Tex-Mex enthusiasts, offering a delightful array of Mexican-inspired dishes that are sure to satisfy your cravings.
Established in 1982, this family-owned and operated restaurant has carved a niche for itself with its unwavering commitment to providing top-notch service. The dedicated staff embodies the essence and charm of the restaurant, leaving a lasting impression on every guest. Visitors often rave about the exceptional service they receive, a testament to the restaurant's dedication to creating a memorable dining experience.
One of the standout features of The Plaza is its welcoming and intimate atmosphere, offering a perfect refuge for weary souls seeking relaxation after a long day. As you step inside, you'll be greeted by an ambiance that encourages you to unwind and savor every moment.
Address: 2512 N Main St, Altus, Oklahoma, USA.
Also read: Things to Do in Claremore Ok
2. BRAUM'S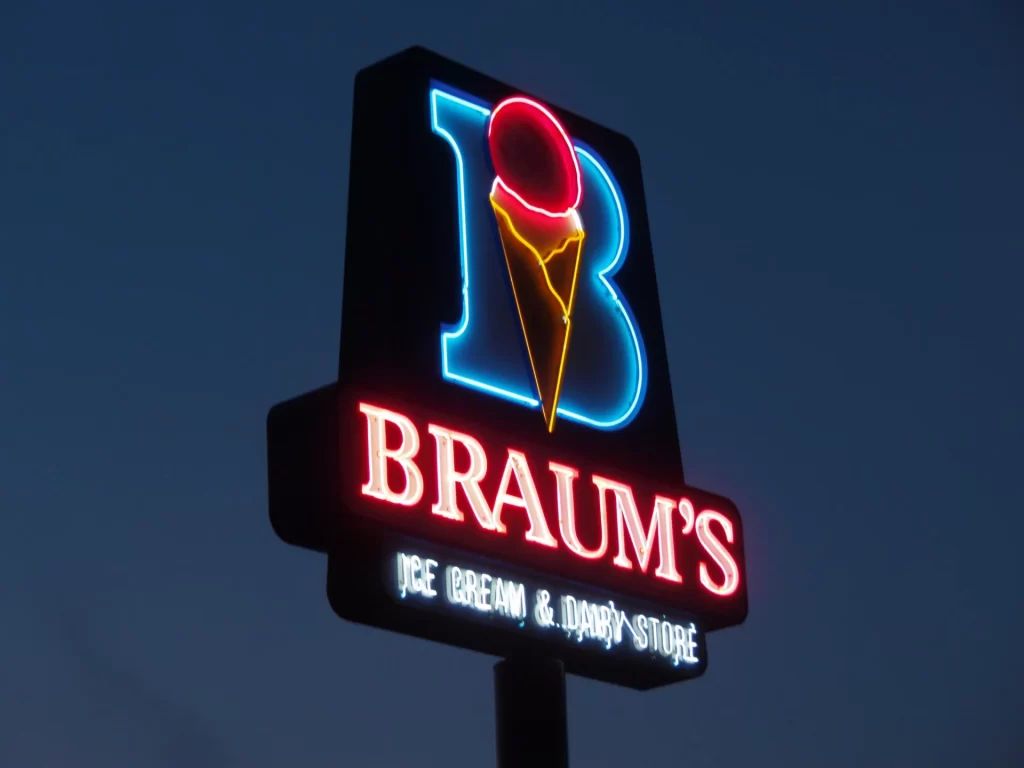 Indulge in a taste of Oklahoma's culinary legacy at this long-standing chain that has become a beloved establishment. Offering an enticing combination of fast-food burgers, delectable ice cream, and sandwiches, BRAUM'S has something to satisfy every craving. Whether you're in the mood for a quick breakfast, a leisurely lunch, or a full dinner, this versatile eatery has you covered.
The menu at BRAUM'S boasts an impressive variety of delectable selection of sandwiches, succulent chicken strips, mouthwatering desserts, and refreshing beverages. One item that stands out among the rest is the tantalizing Braum's Fudge Cake, a sweet treat that is sure to delight your taste buds.
Beyond its culinary offerings, this establishment also serves as a one-stop destination for quality groceries. With a wide range of products available, it's the perfect place to not only enjoy a satisfying meal but also to stock up on essentials for your pantry.
Also read: Things to Do in Shawnee OK
As you step into this establishment, you'll be greeted by a warm and welcoming atmosphere, inviting you to sit back, relax, and savor the flavors that have made this chain a favorite among locals.
Thus, with its delectable food options, mouthwatering desserts, and a wide range of groceries, BRAUM'S is the perfect place to satisfy your cravings while ensuring that you bring home the very best.
Address: 2505 N Main St, Altus, OK 73521-1613.
3. Happy Donuts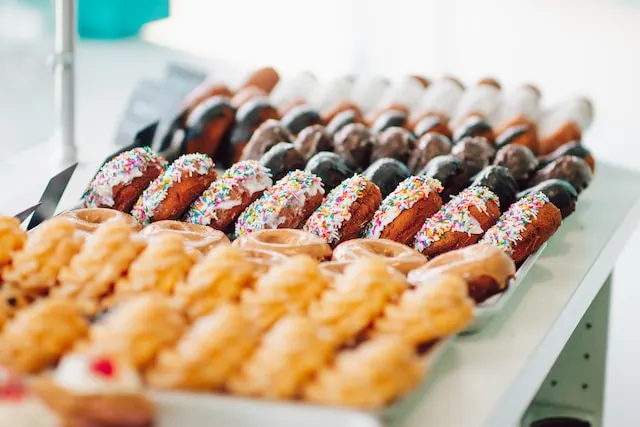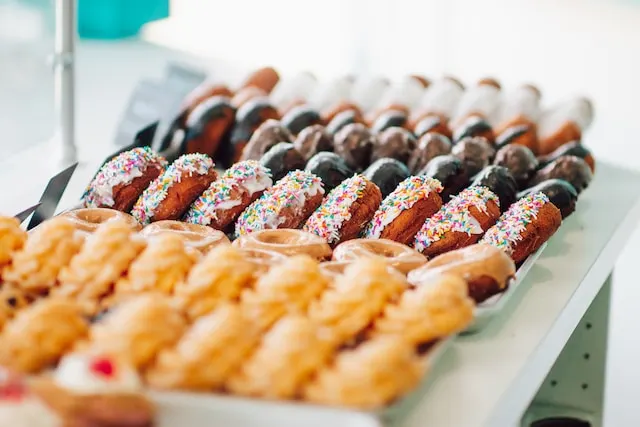 If you're in search of a go-to spot for incredible donuts and coffee, this place is a true gem. While there may be other options nearby, this place stands out as the best. Happy Donuts lets you indulge in solid, delectable donuts that come in a wide variety of flavors, ensuring there's something for everyone's taste.
Not only does this place deliver on taste, but the service is also top-notch. The staff goes above and beyond to provide a pleasant and efficient experience, adding to the overall enjoyment. One bite of these delicious donuts, and you'll understand why Happy Donuts is highly regarded.
Also read: Things to Do in Tulsa Ok
For those seeking a satisfying breakfast or a delightful treat any time of the day, this is the place to be. Their donuts are always fresh, made with care to ensure exceptional quality.
Address: 908 N Main St, Altus, OK 73521.
4. Sakura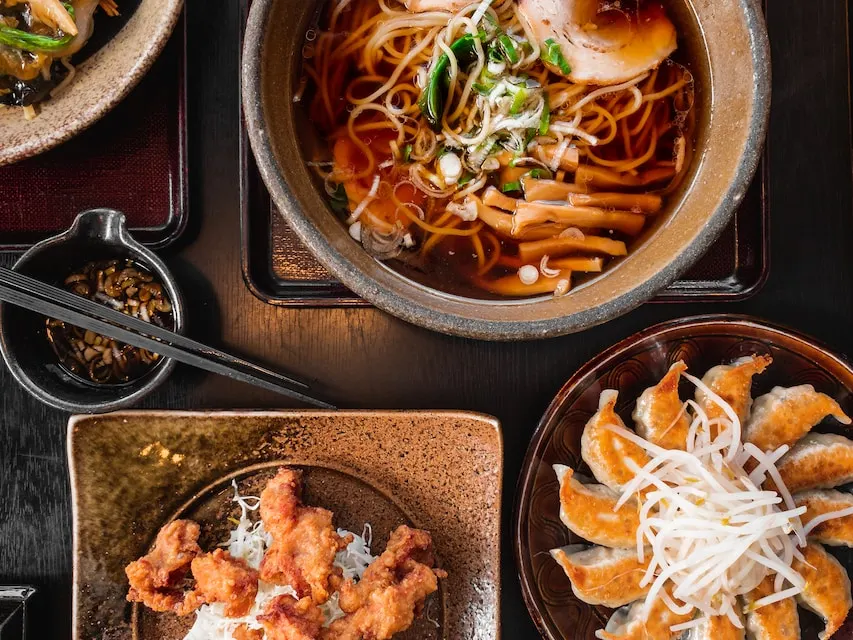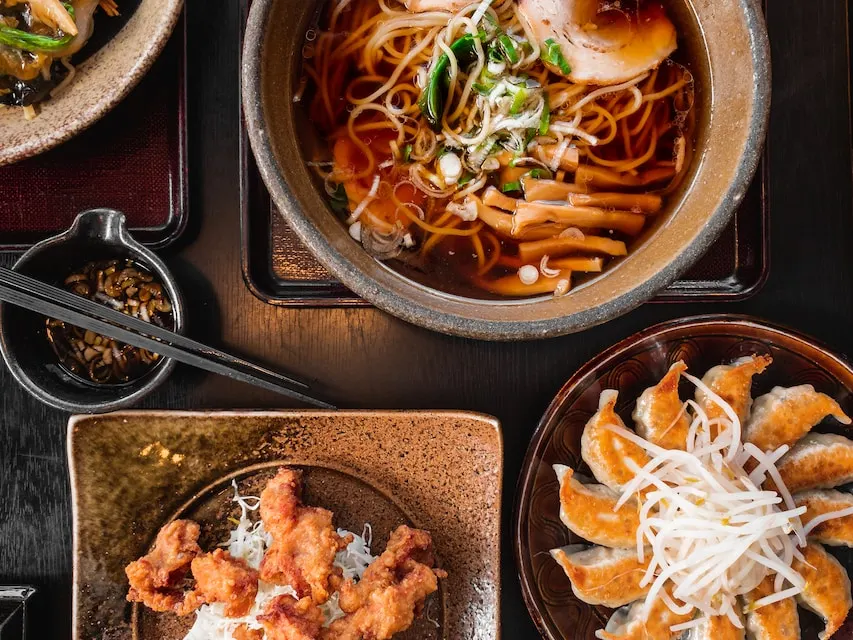 If you're craving the delightful flavors of Japanese cuisine, Sakura is the perfect destination for you. This renowned establishment offers a diverse selection of Japanese dishes, also including sushi and other Asian delicacies. From the moment you step foot into Sakura, you'll be greeted with exceptional food and impeccable service that consistently hits the mark.
Sakura's menu is a treasure of culinary delights, offering an array of options to satisfy any craving. For those seeking a sizzling and savory experience, the hibachi chicken is highly recommended. If you're a sushi enthusiast, don't miss out on the delightful shrimp tempura roll. Visitors often praise the quality of the steaks, teriyaki chicken, and California rolls, served here. And make sure to save room for dessert, as Sakura offers a tantalizing selection of tasty ice cream to complete your meal.
Address: 212 E Broadway St, Altus, Oklahoma, USA.
Also read: Things to Do in Edmond OK
5. Jd's Hideaway Arcade/Axe Throwing
Jd's Hideaway Arcade is a well recognised restaurant bar in Altus, OK that sets itself apart with its outstanding array of drinks, delectable cuisine, and thrilling games.This distinguished venue takes pride in its fully stocked bar, presenting an exquisite array of drinks. The menu, meticulously crafted, entices with delectable delicacies, ranging from succulent burgers and tantalizing buffalo wings to golden fries and scrumptious flatbreads. And that's just the beginning.
This enchanting establishment goes above and beyond, offering an immersive experience that transcends ordinary outings. It allows you to immerse into the excitement of axe throwing, engage in the virtual realm of a golf simulator, and revel in the joy of the sport.
Furthermore, as the weekend arrives, the venue comes alive with the mesmerizing sounds of live music, setting the stage for an atmosphere brimming with energy and merriment.
Address: 1104 N Spurgeon St, Altus, OK 73521.
Also read: Things to Do in Yukon OK
6. Fred's Steakhouse & Saloon
Fred's Steakhouse & Saloon beckons you with a symphony of flavors and a lively spirit. As you step into this cherished eatery, the aroma of succulent steaks will reign your senses. Fred's boasts an impeccable menu, graced with tender ribeye and velvety filet mignon, enchanting even the most discerning palates.
But it's not just about the steaks at Fred's. You'll also get to explore delectable seafood, chicken and comforting pasta. Each dish here is carefully crafted to tantalize your taste buds and leave you craving for more.
Beyond the gastronomic wonders, Fred quenches your thirst at the spirited saloon, where an impressive array of wines, artisanal brews, and imaginative cocktails await you.
Also read: Things to Do in Ardmore OK
However, to ensure a seamless experience, it's wise to secure a reservation. This will allow you to bask in the magic of Fred's menu without delay. The unique allure of this restaurant bar reaches far and wide, making it a cherished haven for locals and a sought-after gem for visitors.
Address: 2011 N Main St, Altus, OK 73521.
7. Salt Fork Drafthouse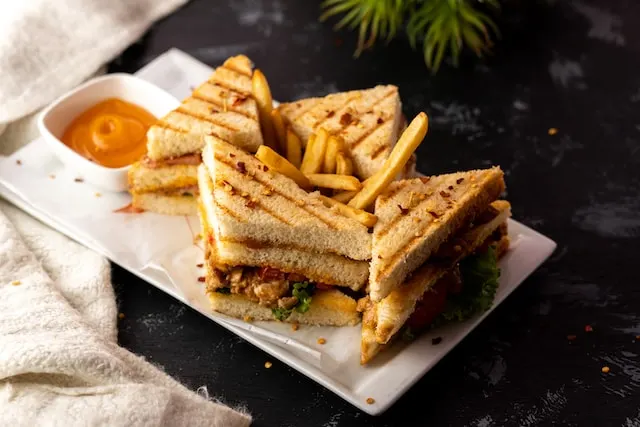 Prepare to embark on a culinary journey like no other at Salt Fork Drafthouse.
This restaurant is a haven for food enthusiasts, catering to all cravings with a diverse menu of juicy burgers, mouthwatering sandwiches, and tantalizing appetizers. Every dish served here is thoughtfully prepared by skilled chefs.
Beyond the delectable food, Salt Fork Drafthouse serves an extensive selection of craft beers and specialty cocktails. So, whether you're a beer connoisseur or a cocktail aficionado, you will find a delightful option to perfectly complement your meal.
Moreover, the restaurant exudes a relaxed and inviting atmosphere, setting the stage for cherished moments with loved ones or friends. To add an extra dash of excitement, be sure to check their schedule for special events and live entertainment. These captivating experiences can elevate your visit to Salt Fork Drafthouse, making it an unforgettable night of food and fun.
Also read: Things to Do in Ada OK
Address: 2101 E Broadway St, Altus, OK 73521.
8. Applebee's Grill
To have a gratifying dining experience, heat to Applebee's Grill. The restaurant's extensive menu serves juicy burgers, tantalizing sandwiches, hearty salads, and flavorful pastas. Delightful appetizers and unique desserts add the perfect finishing touch.
Additionally, the charming ambiance and attentive staff ensure a delightful dining experience. Whether you are gathering with friends or enjoying a family meal, Applebee's Grill is the ideal destination for a casual day out.
Don't miss their impressive beverage selection, featuring refreshing soft drinks, signature cocktails, and enticing beers. These drinks perfectly complement your meal, enhancing your overall enjoyment.
For a reliable dining choice in Altus, Oklahoma, make sure to visit Applebee's Grill. With a convenient location and commitment to quality food and service, it's a beloved destination for locals and visitors alike.
Also read: Things To Do In Thackerville OK
Address: 3501 N Main St, Altus, OK 73521.
9. Roma Italian Restaurant
Roma Italian Restaurant is a charming dining spot, offering authentic and delicious Italian cuisine. Their diverse menu features classic pasta favorites, unique pizzas, and delightful seafood options. Using traditional recipes and the finest ingredients, each dish at Roma Italian guarantees an authentic dining experience. The warm and hospitable atmosphere enhances the enjoyment of your meal, and the courteous staff ensures exceptional service.
Also read: THINGS TO DO IN POTEAU OK
Whether it's a special occasion or a night out, Roma Italian Restaurant provides a comfortable and welcoming ambiance. They also have a well-curated wine list that perfectly complements their Italian cuisine. All-in-all, Roma Italian Restaurant is the ideal place to savor authentic Italian flavors and create lasting memories.
Address: 609 N Main St, Altus, OK 73521.
10. Trader Tom's Tavern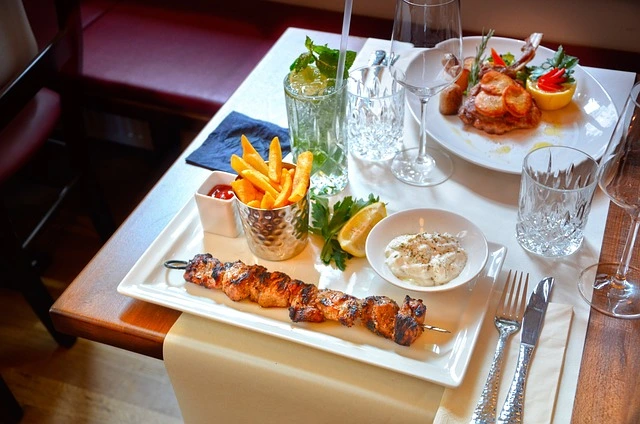 Trader Tom's Tavern is a popular establishment known for its friendly atmosphere and memorable experiences. With a varied menu offering classic pub favorites, specialty sandwiches, and tasty appetizers, there's something to satisfy every taste. The warm and welcoming ambiance, complemented by classical decor and friendly staff, provides a relaxing setting to gather with friends, enjoy drinks, and watch sports games on the big screen. Their well-equipped bar serves a variety of beverages, including beer, wine, and signature cocktails, crafted by skilled bartenders. Don't miss their special events, live music performances, and trivia nights for added excitement. Trader Tom's Tavern guarantees a memorable experience where you can relax, socialize, and create lasting memories. 
Also read: Things To Do In Moore OK
Address: 2308 E Broadway St, Altus, OK 73521.
Conclusion
Get ready to indulge in a feast to soothe both your senses and the soul. These handpicked restaurants and bars are where every bite and sip is an adventure waiting to be savored.
Make your way to these exceptional restaurant bars in Altus, where an unforgettable experience awaits, destined to leave an indelible impression.