A good day starts with a good breakfast, and the vibrant city of Gastonia embraces this sentiment wholeheartedly. As the most important meal of the day, breakfast holds a special place in everyone's hearts, setting the tone for the day ahead. And luckily when it comes to breakfast, Gastonia leaves no desire unmet. It offers a myriad of options to satisfy your diverse preferences.
From hearty feasts to lighter fare, the city's vast breakfast scene highlights its culinary diversity. In this article, we'll explore the local establishments that have become morning go-tos. So, let's dive into the details and relish the delightful sensation of kickstarting perfect mornings in Gastonia North Carolina!
Here are the best breakfast spots in Gastonia NC.
1. Pancake House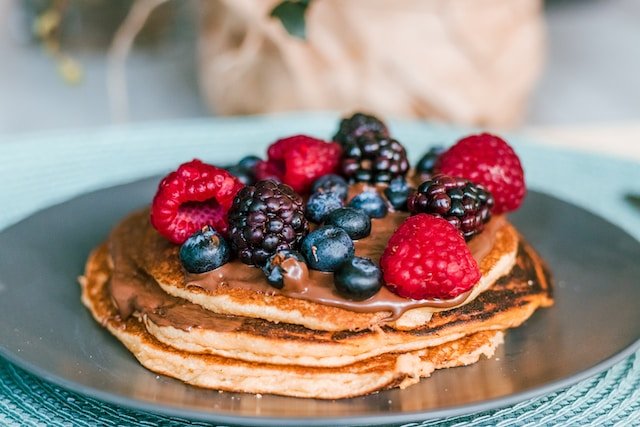 If you're a fan of pancakes, guess what? Gastonia has a secret place just for you to relish their wonderful taste! The Pancake House in Gastonia is a prime destination for a delightful breakfast. This chain specializes in serving signature pancakes and a variety of American breakfast classics all day, set in a charming diner-like ambience.
Their menu features an array of perfectly crafted dishes that evoke a sense of nostalgia, reminiscent of homemade, country-style cooking. One of the standout dishes you must try is the Apple Pancake – a real treat that brings ultimate comfort. Another must-try is the Dutch Baby. But this place isn't only about pancakes. Their omelet selection is just as amazing. You've got choices like the irresistible mushroom omelet, topped with a rich homemade mushroom sherry sauce, which is a truly moist and fluffy delight.
Beyond pancakes, the establishment offers impressive omelet options, like the savory mushroom omelet topped with homemade mushroom sherry sauce—an exquisite delicacy. Whether you're a pancake lover, omelet enthusiast, or simply seeking a memorable breakfast experience, the Pancake House will surely satisfy your cravings and leave you wanting more.
Also read: Best Things To Do In Gastonia NC
2. Eggs Up Grill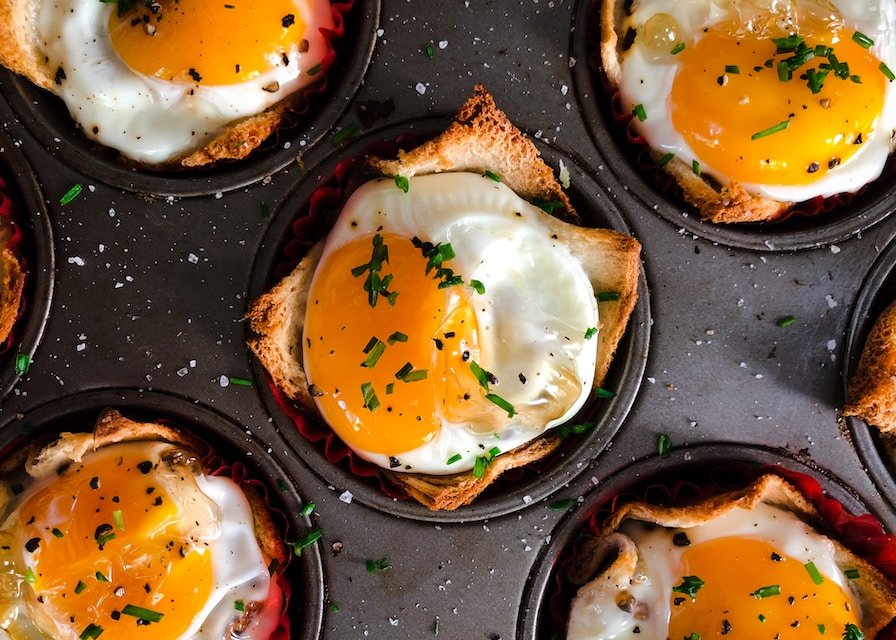 Discover the pleasure of a superb breakfast in a modern-style setting at Eggs Up Grill. This cozy Breakfast and brunch Restaurant is known for its laid-back ambience. Its speciality lies in its diverse menu that covers a variety of breakfast delights like burgers, waffles, fries, and sandwiches.
Genuine hospitality is at the forefront here, making sure that you, as a guest, always feel welcomed and respected. This dedication to excellence also resonates through their breakfast classics. Every dish and drink is meticulously crafted to deliver remarkable flavors and a touch of revitalizing freshness. Farm-fresh, hand-cracked, and made-to-order dishes, are a hallmark of Eggs Up Grill.
Additionally, families are valued here, as shown by the considerate Kids Menu. Among Breakfast Classics, you'll also find cherished options like avocado toast and eggs, steak and eggs, slices, strips and spuds. Their signature Omelets served with toast and a choice of home fries, grits, or fresh fruit, epitomize their dedication to providing a comprehensive breakfast experience.
Also read: BEST THINGS TO DO IN CLINTON NC
Eggs Up Grill is more than a restaurant; it's a place to indulge in the delights of breakfast while immersing in a modern vibe. With their genuine service and great cooking, come experience breakfast that not only delights your taste buds but also uplifts your mood.
3. Balls Grill & Produce
Hey fellow explorer! If you happen to travel to the charming town of South Gastonia, one thing you absolutely can't afford to miss is breakfast at Balls Grill & Produce. This place is a local favorite, and once you step in, you'll know exactly why.
Balls Grill & Produce has a menu that's as diverse as it is delicious food. Its juicy burgers, crispy chicken tenders, and breakfast options will make you drool. Also, it leaves you wondering why you didn't discover this place sooner. The best part is the prices here won't make a dent in your wallet.
And who says breakfast is only for the early birds? This eatery serves up mouthwatering breakfast sandwiches till a laid-back noon. That's breakfast freedom!
Furthermore, their friendly staff is truly impressive. They're super speedy without compromising quality. Now, here's something to prepare for: the livermush and egg sandwiches they serve are like food legends for the regulars. It's seriously the kind of meal you'd fantasize about.
Also read: PROS AND CONS OF LIVING IN HICKORY NC
Long story short, if you're craving a quick, satisfying, and wallet-friendly meal, this is the place to be.
4. Sprouts Cafe
For all health-conscious folks out there who crave eating out without giving up on your well-being, this place has got you covered. Encapsulating a bohemian vibe, the Sprouts Cafe serves delicious organic breakfast and lunch options, including vegan and gluten-free choices.
Their menu is a treat. It boasts of fresh vegetarian wraps, sandwiches, and flatbreads. Do not miss their daily special, which features seasonal items – a lot of them come straight from their own Sprouts Garden. That means you will get to eat farm-fresh produce that will ensure keeping your hygiene in check!
On Fridays, Saturdays, and Sundays, the weekends light up with a varied brunch menu that includes a range of vegetarian and wholesome choices. Moreover, every day, at Sprouts Cafe you can treat yourself to delectable sweets like cakes, muffins, and dessert bars to satisfy your sweet tooth.
Also read: PROS AND CONS OF LIVING IN DURHAM NC
Now, for breakfast – it's a flavor-packed affair. From hearty Sandwiches and Oat Waffles to indulgent Stuffed French Toast and unique Burger Burrito, there's something for everyone. And seafood enthusiasts, don't skip your special Shrimp and grits.
5. Panera Bread
Ever heard of Panera Bread in Gastonia? Wondering what makes this bakery/cafe chain stand out? Well, it's all about their dedication to quality ingredients and creating a welcoming dining experience. Not to mention, their exceptional bread is a true signature feature.
Panera Bread offers a diverse array of breakfast options, appealing to a wide range of tastes. From the Avocado, Egg White and spinach on a Sprouted Grain Bagel Flat to traditional choices like Egg and cheese on Brioche and Bacon and egg and cheese on Ciabatta, the breakfast menu caters to various preferences.
Beyond breakfast, the menu showcases an extensive selection of soups, salads, and sandwiches, demonstrating the establishment's commitment to providing a comprehensive dining experience.
Upon entering the premises, you will find yourself immediately enveloped in a sense of warmth and hospitality that defines the establishment's ethos. Panera Bread Gastonia's dedication to utilizing quality ingredients and cultivating a friendly atmosphere truly makes it an ideal spot to start your day's meal.
Also read: Best Things To Do in Kernersville NC
Without a doubt, a visit to Panera Bread promises a thoughtfully curated experience.
6. Waffle House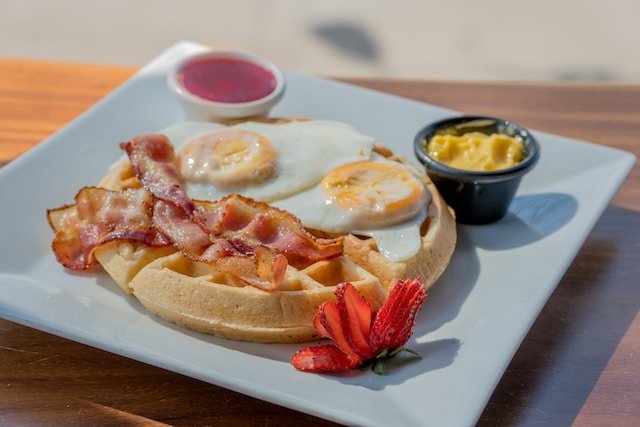 This particular Waffle House in Gaston sets itself apart from the rest with its exceptional qualities. It's a wonderful breakfast choice popular among foodies for its superb service and satisfying food. When it comes to breakfast at Waffle House, the choices seem endless. Among the all-time favorite breakfast items are Egg Breakfasts and Hash Brown Bowls.
Hashbrown Bowls aren't just dishes served in a bowl – they're like comforting morning meals with a real taste of America. The menu doesn't stop there; it extends to include a variety of items such as Sandwiches, Texas Melts, Beverages, Omelets, and much more.
With the name 'Waffle House', their waffles are top-notch, possibly the best worldwide. Apart from this, the staff at Waffles House is not only friendly but also incredibly helpful, creating an inviting atmosphere for guests to relish. The overall experience perfected by the impeccable food and service, consistently hit the mark at this restaurant.
Also read: Packing Tips for a Long-Distance Move
7. Cracker Barrel
This breakfast place gets a lot of praise, and trust me, there's a solid reason behind it. For the best all-day breakfast, lunch, and dinner, there is no better option than Cracker Barrel.
This enchanting eatery and gift shop is beautifully adorned with a delightful Southern country theme. With a rich legacy spanning over 50 years, Cracker Barrel has been crafting comfort and serving up Southern-style goodness that warms the heart. As you walk in, you're hit with the welcoming vibe.
And the food? Every dish served here is cooked up with care and a dash of love. Moreover, all these mouthwatering delights come at reasonable prices that'll keep a smile on your face.
But wait, there's more! As you explore their store, you'll discover a collection of traditional knick-knacks, delicious snacks, familiar sweets, fun toys, and a whole lot more.
Talking about breakfast – the star attraction of the menu is timeless favorites like eggs and pancakes, perfectly paired with irresistible crispy treats. Besides, you've got iconic stuff like Buttermilk Pancakes, Stuffed Cheesecake Pancakes, the hearty Hash Brown Casserole and the cozy Biscuits n' Gravy.
Also read: Best Things to Do in Graham NC
So, come on over and explore the magic of Cracker Barrel. I can guarantee that once you enjoy their offerings, you'll be walking away with a satisfied tummy and a bunch of smiles.
8. Firestone Grill
Firestone Grill is your go-to destination for a hearty breakfast packed with Southern charm. If you're a fan of that classic Southern taste, you're in for a treat with their amazing country ham and biscuits.
Wait, they have got more delicious options to satisfy your cravings. From crispy fried chicken to a salad bar, and homemade potato salad and coleslaw, there's something for everyone to enjoy.
Not only is the food great, but it's also budget-friendly. So you can dig into a scrumptious breakfast without worrying about breaking the bank. Furthermore, the restaurant's staff is known for their efficiency and friendly service, making your dining experience even more pleasant.
Also read: Traveling the Florida Straits: The Real Distance Florida to Cuba
As you step inside, you will be welcomed by a clean and well-lit environment. The vibrant atmosphere sets the tone for a delightful meal, accompanied by the buzz of other breakfast enthusiasts. Whether you're an early riser or someone who loves a leisurely morning meal, Firestone Grill gets you covered.
The reasonable prices combined with top-notch service make this breakfast eatery a favourite among locals and visitors alike.
9. Groovy Beast
Groovy Beast is a cool place to start your day off right with the day's first meal. At this place, delicious flavors and satisfying meals await you. Ranging from comforting breakfast classics to mouthwatering savory choices, the menu has varied options to keep your taste buds engaged.
Begin your day on a joyful note as you savor their light and airy pancakes and delectable French toast. And if a hearty meal is what you're after, make sure not to miss their rich flavorful burgers. Apart from this, the Groovy Beast's crispy onion rings are absolutely irresistible. Don't forget to give their bowls and daily specials a try – they're the type that'll leave a smile on your face.
Also read: BEST THINGS TO DO IN GREENVILLE NC
The team at Groovy Beast is dedicated to ensuring your visit is fantastic. With a loyal group of regular customers, the restaurant's reputation is built on excellent food and a welcoming ambience. Whether you're solo or with your family, a wonderful experience is what you are assured to get here!
10. Golden Corral Buffet & Grill
For the perfect family-friendly dining experience, look no further than this buffet chain in Gastonia. It's the go-to place for indulging in all-American cuisine. With a welcoming atmosphere for groups, it's an ideal spot to gather and enjoy a hearty meal together.
Begin your morning with an unforgettable breakfast experience at the Golden Corral buffet that is nothing short of impressive. Delight in a variety of dishes including made-to-order eggs, fluffy omelets, crunchy bacon, flavorful sausages, traditional buttermilk pancakes, and irresistible crispy waffles. And don't miss out on the delectable cinnamon rolls that bring a delightful touch of sweetness to your morning feast.
For those who crave a personalized touch, the Omelet Station is a must-visit. You have the opportunity to craft your breakfast masterpiece. Begin with fresh eggs and fill them with your favorite ingredients, creating an omelet that's perfectly suited to your tastes.
Also read: Best Things To Do in Waves NC
Although the prices might be a bit higher, you can be confident that the food's quality makes it worth the expense. With a wide range of choices and a welcoming ambience, a visit to Golden Corral promises a memorable dining experience.
The Parting Words…
Your quest for the finest breakfast choices in Gastonia, NC concludes here, with a mouthwatering array of options. From renowned breakfast joints to cozy cafes and satisfying buffets, there's a treat to suit every taste.
Whether you're seeking hearty American classics or a family-friendly atmosphere, Gastonia has truly earned its reputation as a breakfast destination worth savoring.
Also read: BEST THINGS TO DO IN PINEHURST NC
Get ready to dive into a delicious journey that promises mouthwatering moments and wonderful memories, making your mornings in Gastonia truly unforgettable. Gather your loved ones and head over for a satisfying meal that will put smiles on everyone's faces.