North Carolina's natural splendor has bit me with the travel bug. I've traveled through the best of North Carolina, witnessing nature at its finest, and I want you to do the same. So let's take a stroll together around the finest of North Carolina, exploring Waves, a little, picturesque town located on the gorgeous Outerbanks of Hatteras Island in Dare County.
Waves is a tiny yet bustling town, notable for its vast and windy beaches. Not only that, but the Waves also happen to be recognized for its rich history and culture. The town's small friendly community further contributes to the beauty and charm of this region. Waves, with its extensive shoreline, is also home to some of the East Coast's largest water sports firms, as well as attractive restaurants and cafes.
If you are interested in exploring more, continue reading about the best things to do in Waves.
Also read: THINGS TO DO IN PINEHURST NC
Discover Your Hunger For Adventure And Participate In Real Watersports.
In WAVES, NC, you can't miss the REAL watersports. This place in town is an adventurer's paradise.
REAL has been enthralling visitors and locals with its unique water-based adventures since 2001. If you enjoy kiteboarding, jet skiing, and surfing, this is a great place to pay a visit. And the best part is that there are professionals available to guide you if you are a newbie and require training before trying any of the sports. Additionally, at REAL Watersports, you may take classes to have the most thrilling experience. The location is one of North Carolina's top surfing spots.
Besides surfing and kiteboarding, there are several additional activities at the beach that will take your breath away and make your trip unforgettable!
Also read: THINGS TO DO IN HICKORY NC
Immerse Yourself In The History Of Nautical Maritime At The Graveyard Of The Atlantic Museum
If you are a history geek then Waves, NC has a special spot for you that is, Graveyard at Atlantic Museum.
The museum recounts the history of hundreds of ships that were sunk as a result of wars, severe storms, or piracy. Here, you may immerse yourself in the fascinating history of Nautical Maritime while also getting up close and personal with Civil War treasures and shipwrecks.
The museum also displays some of the greatest ship models as well as fascinating stories associated with the bombing, rescue missions, and also other historic events of national importance. The most intriguing aspect of the museum is that it organizes a daily treasure hunt in which you can participate, learn, and have fun!
Also read: THINGS TO DO IN WAYNESVILLE NC
Experience some Thrill at First Flight Adventure Park
It's no wonder that the town of Waves has become synonymous with adventure.
So, while you're in Waves, NC, it's tough to stay away from the thrill. And hence Waves, NC has a perfect spot to give you goosebumps, the First Flight Adventure Park. This aerial adventure park has everything to cause you an adrenaline rush.
Featuring over 50 obstacles including ropes courses and zipline rides available for every age group, the park serves as a perfect spot for children and adults. When engaging in activities, you will also be treated to stunning views of the ocean and surrounding greenery.
Also read: RESTAURANTS IN CLAYTON NC
Treat Yourself amidst the sea breeze at Watermen's Bar and Grill
How can one miss dining in the midst of the sea waves when visiting Waves, NC?
Serving delicious food combined with stunning views, the Watermen's Bar and Grill caters to the unique dining needs of customers. Set in a lovely and tranquil atmosphere surrounded by nature, the restaurant epitomizes the charm that sets the mood. The delectable menu, which includes outstanding Coffee & Espresso as well as a variety of wines, beers, and spirits, adds to the overall experience.
Visitors' favourite feature is the live music show, which allows you to listen to ambient music while enjoying a glass of wine.
Also read: THINGS TO DO IN SALVO NC
Take Part in the Hatteras Fishing Challenge
If you really want to be a part of a local event, join Hatteras Fishing Challenge.
This is one of the best fishing challenges you can be part of. Organized between September 22nd to September 24th, Hatteras Fishing Challenge lets you put your fishing skills to the test. The event also offers you the opportunity to try your hands at several different activities ranging from fishing and surfing to sunbathing and much more. So, if you participate in the Hatteras Fishing Challenge, you will undoubtedly have a fantastic experience. There are a variety of competitions and tasks to keep you engaged, and if you win, you will be awarded wonderful presents and prizes.
Also read: THINGS TO DO IN BLOWING ROCK NC
Stroll Around The Tranquil And Serene Jockey Ridge State Park
Being in Waves, NC, you can't miss the dunes, and Jockey Ridge State Park provides an excellent view of them.
In addition to being home to the tallest living dunes on the Atlantic coast, the Jockey Ridge State Park also features Roanoke Sound and the maritime forest. As a result of this unique ecological combination, the park is an epitome of natural beauty.
Also read: THINGS TO DO IN SYLVA NC
The surrounding serenity and peace, as well as the stunning scenery here, will soothe your tired eyes. It is a desert-like location along the beach, thus visiting here rewards you with a one-of-a-kind experience. You may visit here with your friends and family and enjoy activities including hang-gliding, kite flying, sand boarding, and more.
Pay reverence at the Wright Brothers National Memorial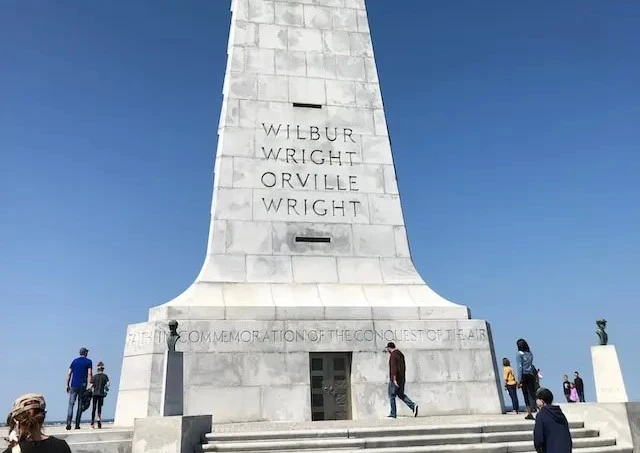 The Wright Brothers National Memorial in Waves, North Carolina honours the historic feat of the Wright Brothers' first successful aeroplane flight.
After four years of arduous and persistent scientific experimentation by two young brothers Wilbur and Orville Wright, the first flight took place on December 17th,1903.
Also read: Things To Do In Gastonia NC
The Wright Brothers National Memorial honours their accomplishments. It educates visitors about the Wright Brothers' struggles and hard work in achieving their aim of having the world fly. The Memorial also has a recreation of the hangar utilized by the brothers in their experiment.
Celebrate a Beach Day at Salvo Day Use Area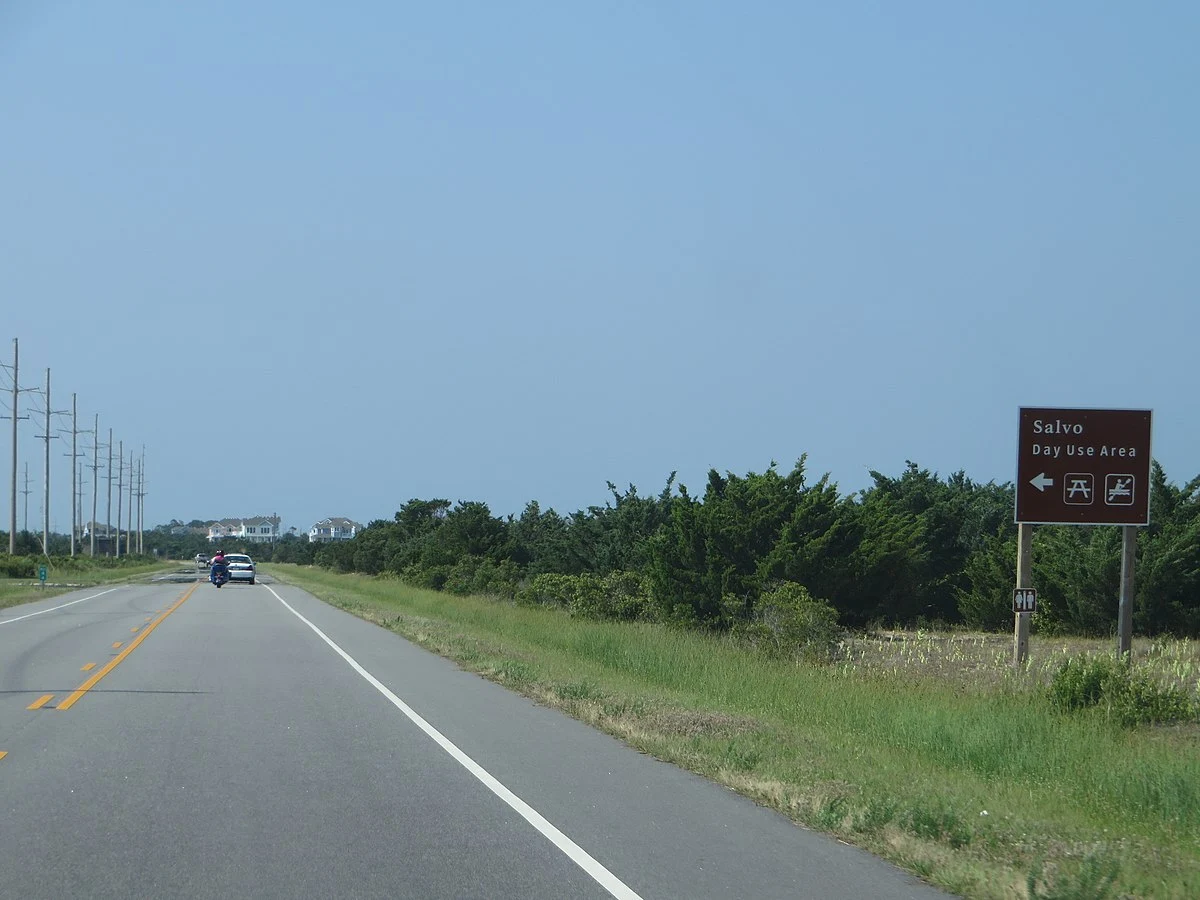 Beaches are the love of everybody and hence a beach day is mandatory in Waves, NC. So, if you are also a beach kind of person, spend a day at Salvo Day Area.
It is not a conventional beach, but rather a park in Oceanside where you can go camping and have a wonderful picnic with your friends and family. You may also enjoy water activities, camping, grilling, and, of course, the spectacular sunset!
Also read: Things To Do In Salisbury NC
The Salvo Day Area is a family-friendly destination; the shallow waters here are ideal for people of all ages to spend a great day.
Get Acquainted with the Art and Craft at Pea Island Art Gallery
Exploring the area's art and craft is an incredible experience in itself. And in Waves, NC, you can do it at Pea Island Art Gallery. The gallery houses exceptional artworks by renowned painters from around the region. Displays of artworks in a variety of genres and mediums may be seen here.
Aside from that, you may buy souvenirs such as artworks, home décor items, glassware, ceramics, or local ornaments.
So, if you enjoy art, you should go here.
Also read: Things To Do In Calabash NC
Enjoy some ice cream at the Village Connery Ice-cream and Yogurt Shop
Ice cream and frozen desserts are constant favourites, so treat yourself to Village Connery Ice Cream and Yogurts.
This ice cream and yoghurt shop provides a range of delicious treats to keep you cool on a hot day. Here you may get to savour milkshakes, delectable sundaes, banana splits, ice cream cakes, and much more.
Also read: THINGS TO DO IN RODANTHE NC
Yoghurt and hand-dipped Hershey's ice cream are also available here. No one would argue that this ice cream parlor is one of the best on the island, thanks to its wide choice of unique and tasty flavours.
Conclusion
Waves, NC is unquestionably a great option for anyone looking for a tranquil and serene escape from the hustle and bustle of daily life. This little town's tranquillity and natural mind-blowing atmosphere will offer you the relaxation you desire. Visiting here would undoubtedly pay off you with a pleasant and memorable trip.
Also read: THINGS TO DO IN HIGHLANDS NC
So, what are you waiting for? Pack your bags and visit Waves right away!