Snuggled between the Great Smoky Mountains and the Blue Ridge Mountains, Waynesville is a charming town in Western North Carolina. From scenic drives to trekking and fishing, and from digging for antiques to touring gorgeous stores and more, Waynesville has a wide choice of enjoyable things to discover. It is a refuge for outdoor enthusiasts seeking adventure in the outdoors.
Without further ado, let's take a look at our top picks for the 12 best things to do in Waynesville, North Carolina!
Also read: THINGS TO DO IN NORTH CAROLINA
1. Wander Through the Great Smoky Mountains National Park
The Great Smoky Mountains National Park is a sprawling wilderness region of approximately 500,000 acres. Hiking, camping, fishing, and animal watching are just a few of the outdoor activities available in this beautiful setting. There are also various scenic drives, such as the Newfound Gap Road and the Clingmans Dome Road, that provide breathtaking views of the surrounding mountains.
With over 800 miles of trails to choose from, hiking is one of the most popular activities in the park. The Appalachian Trail, which passes through the park, and the Alum Cave Trail, which leads to a beautiful vista, are two of the most popular trails. You can also take a guided tour of the park to get acquainted with its history and ecology.
Also read: THINGS TO DO IN SALVO NC
2. Drive through the Blue Ridge Parkway Scenic Space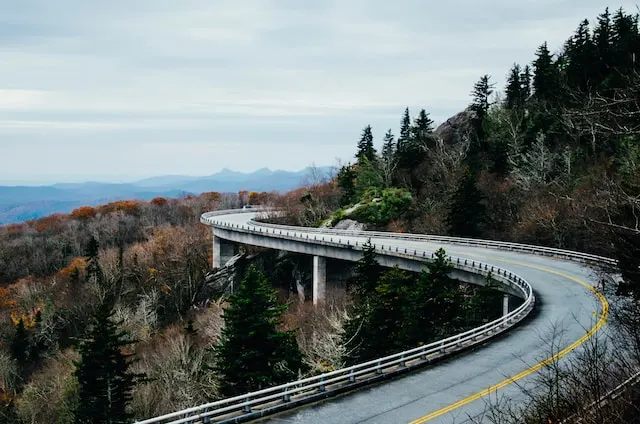 The Blue Ridge Parkway is a picturesque 469-mile road that stretches from Virginia to North Carolina. Running along Blue Ridge mountain and filled with spectacular natural marvels, this parkway is ideal for people wishing to spend time with their loved ones in the midst of nature. The parkway offers stunning vistas of the Appalachian Mountains and is especially lovely in the fall when the leaves change colors and cover the entire space with dazzling hues.
You can also stop at one of the many picnic spots or conveniently located restaurants to enjoy a meal while admiring the scenery. The parkway connects to a number of wonderful hiking routes, including the Graveyard Fields Trail, Cumberland Knob Trail, and Mount Pisgah Trail, allowing you to come closer to nature.
Also read: THINGS TO DO IN BLOWING ROCK NC
3. Visit the Wheels Through Time Museum
Wheels Through Time Museum is a must-see sight for motorcycle enthusiasts.
Featuring almost 300 rare and vintage motorbikes, including Harley-Davidsons, Indians, Excelsiors, and American memorabilia, the museum commands your attention. This motorcycle museum serves as a sight to behold for avid motorcyclists. It transports you into the history of American motorcycles.
The museum also organizes a number of events throughout the year, the most notable of which are the Vintage Motorcycle Show and the Motorcycle Cannonball Run. These events draw motorcycle aficionados from all across the country and are a great way to glimpse a few rare and remarkable motorcycles.
You can also take a self-guided tour of the museum to learn about the history of motorcycling in America.
Also read: THINGS TO DO IN SYLVA NC
4. Go to the Pigeon River for Whitewater Rafting
The Pigeon River is a popular spot for whitewater rafting. The river has Class I-IV rapids that are suited for both beginners and experienced rafters. There are various guided tours available, and tourists can enjoy spectacular views of the surrounding mountains while navigating the rapids.
Kayaking and fishing are two more popular outdoor activities on the Pigeon River. Aside from that, tourists can take a leisurely float down the river and soak in the surrounding scenery.
Also read: Things To Do In Gastonia NC
5. Visit Downtown Waynesville
If you wish to experience the authentic local essence of Waynesville, Downtown Waynesville is the place to be.
It is a lovely neighbourhood with numerous stores, restaurants, and art galleries. You can walk through the streets and admire the architecture of the historic buildings, shop to your heart's delight, or savour some local delicacies. The area also hosts a number of events throughout the year, including art festivals and holiday parades. Moreover, there are several unique shops in Waynesville downtown, including Mast General Store, which offers outdoor gear and clothing, and Twigs and Leaves Gallery, which displays the work of local artists.
If you get tired of exploring, you may eat at one of the many restaurants in the region, one of which is Frogs Leap Public House, which stands out for serving farm-to-table cuisine.
Also read: Things To Do In Salisbury NC
6. Go Fishing on Lake Junaluska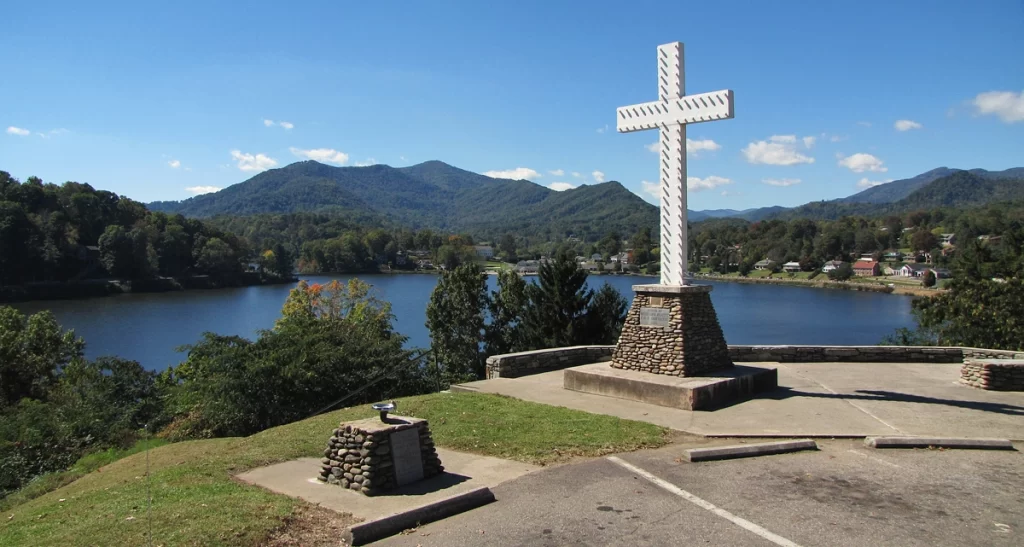 The tranquil waters of Lake Junaluska allow you to relax and revitalize your mind and body. This beautiful lake offers numerous outdoor pursuits, the most popular among which is fishing.
Stocked with trout, bass, and other several fish species, the lake allows you to rent boats or bring your own to explore the lake and try your hand at fishing. Furthermore, the greenway that surrounds the lake features several picnic spots and walking paths where you can ride, trek, or stroll for the perfect outdoor excursion.
Also read: Things To Do In Calabash NC
7. Visit the Museum of North Carolina Handicrafts
The Museum of North Carolina Handicrafts celebrates the state's long legacy of handmade crafts. The museum houses a collection of pottery, weaving, basketry, agricultural exhibits and other heritage crafts made by North Carolina artisans. The exhibits highlight the skills and materials utilized by the craftsmen, as well as the cultural and historical relevance of the crafts.
Eventually, visiting this museum will reward you with a one-of-a-kind experience as well as a glimpse into the rich heritage, culture, and handicrafts.
Also read: THINGS TO DO IN RODANTHE NC
8. Go on a Brewery Tour
Exploring Waynesville's local brewery scene is one of the best ways to experience the town's authentic charm.
Waynesville is home to several craft breweries, and a brewery tour is an exciting way to sample local beers and learn about the town's brewing background. Frog Level Brewery, Boojum Brewing, and Blue Ridge Beer Hub are among the popular breweries in Waynesville that every beer fanatic ought to visit. Many of the breweries in town also serve delicious food combos and behind-the-scenes access.
Boojum Brewing Company, for instance, serves an array of craft beers alongside wood-fired pizzas, sandwiches, and snacks.
Also read: THINGS TO DO IN HIGHLANDS NC
9. Delight Your Taste Buds At The Chef's Table Restaurant
This restaurant is a classic option for an upscale dining experience. It boasts an extensive wine selection with around 250 varieties. It also serves a variety of breakfast, lunch, and dinner selections. Nonetheless, the restaurant's menu changes seasonally and includes appetizers, salads, and main courses of beef, lamb, fowl, seafood, and pasta.
Moreover, the food served here is based on the notion of gourmet dining, with each dish complying with high standards and infused with the richness of spices.
Also read: THINGS TO DO IN SANFORD NC
10. Go on a Waterfall Tour
Waynesville is surrounded by beautiful waterfalls, and touring around them will take you to some of the most picturesque spots.
From short hikes to extended trips, waterfall trails in Waynesville are so breathtaking that you'll want to stay a little longer here. Some of the historic landmarks and picturesque viewpoints will be among the stops that you will be met with on your waterfall tour.
Also read: Things To Do In Thackerville OK
11. Join Annual Events
Waynesville has a rich history and culture, which is reflected in its events and festivities. Visit the city and participate in its annual events to learn about the town's history and hear fascinating stories. If you are visiting the city at a specific time, make sure that you attend these events.
Folkmoot Festival: This ten-day celebration of global cultures takes place in July. As part of this event, about 8,000 artists from 200 nations have flocked to Waynesville to promote their cultures and traditions.
Apple Harvest Festival: This October event has been rated one of the top ten fall harvest festivals in the country. During this celebration, the streets of downtown are crowded with merchants selling pies, ciders, caramel apples, and even arts and crafts.
Church Street Art and Craft Show: Every October, the Church Street Art and Artisan Show is organized wherein artists from every corner of the country gather to exhibit their artwork, crafts, and other commodities.
Also read: Things to Do in Chickasha OK
12. The Sweet Onion Restaurant
This restaurant serves contemporary American cuisine with a southern flair. Located in the Downtown Waynesville area, the Sweet Onion restaurant is a finer restaurant with a cozy ambience and friendly atmosphere. It offers an extensive menu that includes seafood, steaks, salads, sandwiches, and a range of appetizers among other options.
Also read: THINGS TO DO IN POTEAU OK
In Conclusion
Waynesville, NC is no less than a paradise for outdoor enthusiasts, history buffs, and anyone looking to escape the hustle and bustle of city life. Whether you're exploring the Great Smoky Mountains National Park or strolling through downtown Waynesville, there's something interesting for everyone in this enchanting town.