Who hasn't heard of the well-known state of North Carolina? The lovely state, brimming with grandeur from beginning to finish, has recently become a popular destination not only for tourists but also for people looking to relocate permanently.
Surprising, isn't it?
Whatever your reason for visiting North Carolina, the state is always ready to greet you with open arms and surprises. Tranquilly, breathtaking vistas, pleasure, and adventure are all encapsulated here, so expect a bucket full of memories to welcome you to North Carolina.
Besides, the state has a rich past. There is a lot to discover, enjoy, and learn about North Carolina's history. Moreover, the best thing about North Carolina is that it can be visited at any time of year.
To make your trip to North Carolina a little easier and save you time, we've put together an extensive list of the 33 Best Things to Do in North Carolina. So, without further ado, let's get started on the list and start planning your next vacation!
BEST THINGS TO DO IN NORTH CAROLINA
Get Awe In The Beauty Of The Biltmore Estate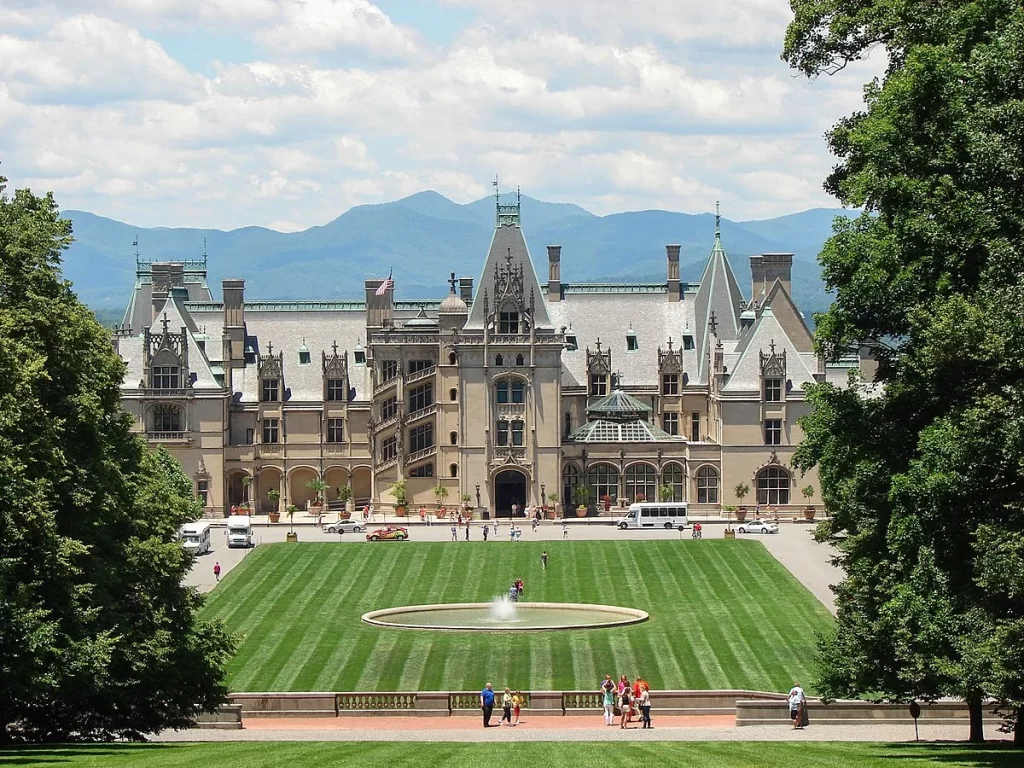 The Biltmore Estate is one of North Carolina's many treasures. The estate spans over 8,000 acres and has been awe-inspiring visitors since the 1890s. Aside from its historical significance, the estate is well-known for its natural aura. Tucked in the mountainous region of the Blue Ridge in Asheville, the Biltmore Estate's main attraction is the Rose Garden, which contains over 250 distinct species of roses.
It also includes a lovely Italian garden with exquisite statues and artwork from local artisans. This estate is a whole package in and of itself, with a deer park, numerous walking trails, and the cherry on top, a vineyard that gives free samples.
Also read: How To Effectively Plan a Trip To Chicago
You could easily spend an entire day here admiring the magnificent architecture, as well as a plethora of antiques and valuable items exhibited here. Don't forget to explore the mansion's secret and hidden chambers and tunnels, as unravelling the mysteries of those is really going to be enjoyable!
Enjoy America's Favorite Drive At Blue Ridge Parkway
Being in North Carolina and missing out on one of America's and the world's best road excursions, the Blue Ridge Parkway is unjust.
This parkway runs for 469 miles and is flanked by a wide variety of wildlife and plants. It also has long-distance panoramas, which are a great illustration of realizing that the journey is more beautiful than the destination. Your tour across Blue Ridge Park will begin at North Carolina's Great Smoky Mountains National Park and end at Virginia's Shenandoah National Park.
Meanwhile, you can have a lot of wonderful adventures and see spectacular sites at every turn of your route. Other popular sites along the parkway include Craggy Gardens, Mount Mitchell, and Linville Fall. Several hiking trails are also easily accessible from the parkway. And if you choose to halt in between, there are many gorgeous locations where you can take pictures, dine, and rejuvenate for your adventurous voyage. You will also pass through a number of museums along the road, like Mabry Mill, The Folk Art Center, and the Museum of North Carolina.
Also read: Best Things To Do In Thackerville OK
Enjoy Breathtaking Panoramas Of Grandfather Mountain
Situated in the northwest part of NC, Grandfather Mountain is a paradise for thrill-seekers. Here you can hike, trek, enjoy the views or find solace, and much more, and it is completely up to you what you want to opt for. Standing at 5,946 feet in elevation, this peak provides you with a 360-degree view of the surrounding area. Moreover, it features some wonderful spots that you should not miss at any cost. One of these is the well-known Mile High Swinging Bridge, the tallest suspension footbridge in the United States.
In addition, the mountain serves as a breeding ground for a diverse range of flora and fauna. Plus, it is also home to the Grandfather Mountain Museum, exploring which you can learn a lot about the region.
Also read: Best Things to Do in Chickasha OK
See The Water Falling At Sliding Rock
If you enjoy nature, water, or taking selfies, Sliding Rock is the place to be.
This is an all-natural water slide located in Pisgah National Forest. The Sliding Rock has been attracting visitors for many years, and its beauty is as soothing as its smoky water that falls from a height of 60 feet. The base of the rock forms a pool of cold water which is about 6 to 7 feet deep. Given its breathtaking scenery, the waterfall is capable of providing you with lifelong memories and also some wonderful photos for your social media feeds.
Explore gorgeous picnic spots, and viewpoints, walk the trails, catch glimpses of wildlife habitats, interact with expert naturalists, or stop by the nature museum. Do whatever you desire as there are lifeguards on duty to keep you and your loved ones safe during your adventure trip.
Remember Wright Brothers At Wright Brothers National Memorial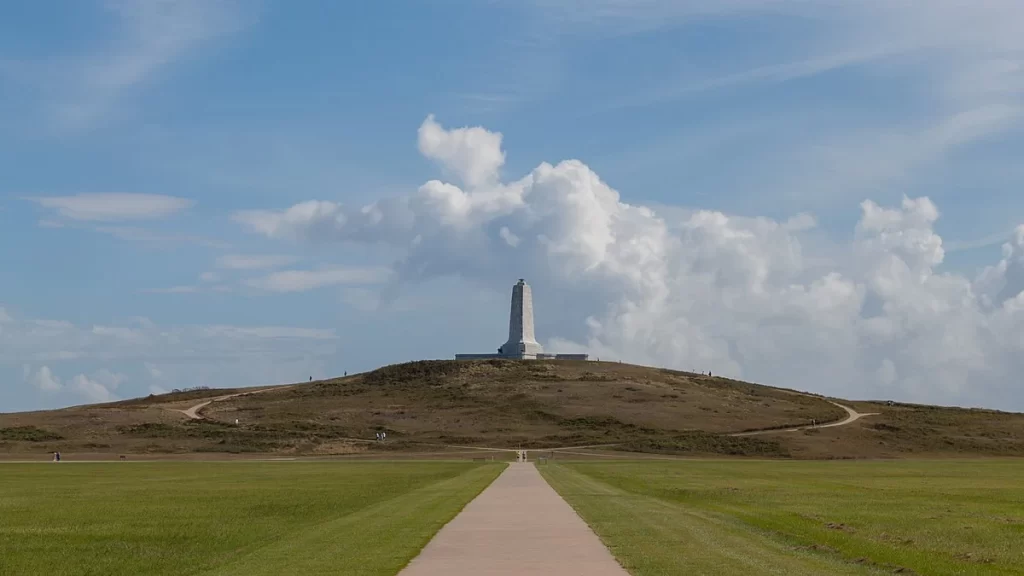 Who hasn't heard of the world-famous Wright brothers, who gave us the priceless gift of an airplane to make our trip easier? Well, it's difficult to find someone who doesn't.
The Wright Brothers deserve to be celebrated and praised for their life-changing invention. Anyway, you can do so at the Wright Brothers Monument in North Carolina. The memorial provides a very intimate look into the voyage of two great brains, offering glimpses of how life was for the Wright Brothers, how they experimented, what steps they took, and what sites were part of their expedition.
The memorial also includes a monument at the top of Big Kill Devil Hill, which is believed to be the site where the Wright brothers conducted their earliest gliding trials.
As a result, this location is appropriate for both science and history aficionados!
Also read: BEST THINGS TO DO IN BLOWING ROCK NC
Pay A Visit To Lake Lure
It's a fantastic experience to view classic locations from films in real life. And visiting Lake Lure allows you to do just that.
Located at the foot of the magnificent Blue Ridge Mountains, Lake Lure will undoubtedly entice you with its splendor. It is a popular site for Hollywood shootings. If you're lucky, you might even see some ongoing shooting sequences at the location. This might give you an idea of how amazing this location is that even filmmakers admire it. The expansive views welcome you with peace, soothing winds, and a lot of fun.
Further, since 2010, Lake Lure has been noted for hosting an annual Dirty Dancing Festival that is both entertaining and altruistic. So, if you're looking to witness some amazing lake views and capture some breathtaking photographs, come here!
Also read: BEST THINGS TO DO IN SYLVA NC
Enter The World Of Sciences At The North Carolina Museum Of Natural Sciences
The North Carolina Museum of Natural Sciences, located in downtown Raleigh, is the biggest museum of its kind in southeast North Carolina.
If you are a science fanatic, you ought to visit this museum as it boasts a large collection of interactive displays of the natural world and history, including dinosaur skeletons, animal habitats, spanning rainforests and tropical ecosystems.
What's more, the North Carolina Museum of Natural Sciences is among the state's oldest and largest museums. It is divided into two sections: the Nature Adventure Center and the Nature Research Center.
As well, there aren't any charges or tickets required to access the museum. However, the museum is worth a visit. It is the only place where you may see an Acrocanthosaurus skeleton. You will learn a lot about science and the natural world, making it a feasible option for science enthusiasts in North Carolina.
Also read: Best Things To Do In Gastonia NC
Explore The Battleship
The Battleship, a World War II remnant, is a must-see attraction in North Carolina. It was and still is regarded as one of the most important maritime weapons. The ship, which was commissioned on April 9, 1941, was one of America's first 10 battleships used during World War II. Sometimes known as the USS North Carolina, the ship has a lengthy history. It bears the 15 gleaming battle stars that still crown America's proud past.
Visiting this ship, one of the best weapons in the world will fill you with pride as it honours the valour and heroism of the 11,000 North Carolina residents who bravely served during the war. You can also take a tour of the ship's interior, which is now open to the public as a museum as well as a National Historic Landmark and state memorial.
Explore The Grand Canyon Of The East At Linville Gorge
Linville Gorge is a must-see attraction in North Carolina. This deepest gorge in the eastern United States is also one of the most beautiful, with a wilderness area of 12000 acres. This area in the Pisgah Forest nicknamed the Grand Canyon of the East, is home to a variety of wildlife, including deer, ruffed grouse, bear, turkey, and raccoon.
Moreover, owing to its spectacular scenery, rugged terrain, steep inclines, and startling depth, the Linville Gorge Wilderness Area is a popular destination among hikers, trekkers, and mountain climbers.
This place's breathtaking beauty can soothe your tired eyes. You may sit by the river and admire Mother Nature's magnificence, or you can walk along the extensive trails and explore the entire area. And, indeed! Remember to get clicked here!
Also read: DOG FRIENDLY BEACHES IN NORTH CAROLINA
Meet The Animals Of North Carolina At The North Carolina Zoo
If you are visiting North Carolina, how can you leave without seeing the state's most famous animals, such as African lions, polar bears, and ocelots? To encounter them, make a trip to the North Carolina Zoo.
Located in the city of Asheboro, the North Carolina Zoo is one of the best places to visit to explore, learn about and appreciate the state's wildlife. This zoo, believed to be the world's largest natural habitat zoo, introduces visitors to the region's fauna through distinct categories including North American, African, Desert, and Tropical.
Aside from a variety of animals, the zoo includes numerous exciting activities for kids to keep them entertained. The zoo also has some snack shops where you may get some food to keep yourself energized.
Beyond this, the zoo has different attractions, including a coaster, a butterfly garden, a ropes course, and many others.
Pay A Visit To The Nascar Hall Of Fame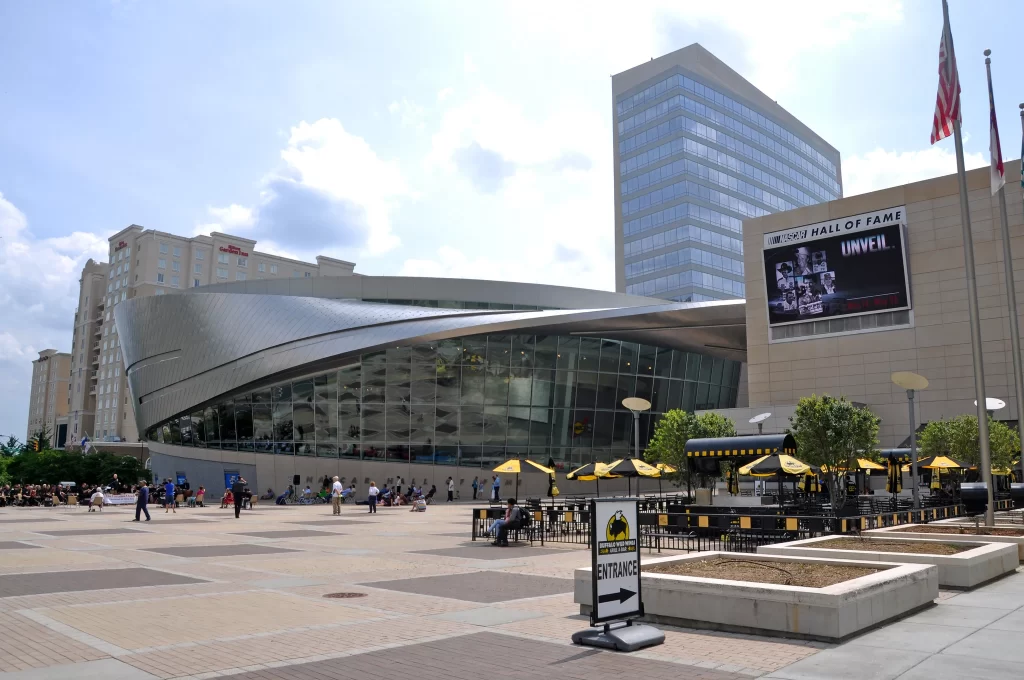 Take a trip to the NASCAR Hall of Fame for an extra dose of entertainment in North Carolina. This Hall of Fame will awe you with its beauty, architecture, informational displays, and engaging activities.
This site, located in the Charlotte area, will provide you with a wealth of knowledge ranging from the history of NASCAR cars to their success. If you like technology or cars, this is the spot for you. It has a large collection of classic cars dating from the 1960s to the 1970s which will make you visit here again and again.
The place's main feature is its outstanding High Octane Theater, which only conducts instructional programs and educates its audience about NASCAR. Thereby, making it simpler for the audience to learn more about NASCAR. Plus, the theater features modern amenities and has a seating capacity of 278 people.
Watch the Blue Ghost Fireflies
Only found in the wet forests of North Carolina, the unique Blue ghost fireflies are something that everyone has always yearned to frantically grasp in their hands. If you are also a part of this tribe, then don't miss a visit to the DuPont State Recreational Forest.
Watching the Blue Ghost Fireflies in North Carolina will offer you an unforgettable experience. It is certain to transport you to another realm of splendour. These Fireflies, sometimes known as lightning bugs, emit bluish-white light streaks. However, only the male bugs fly, whilst the female bugs do not fly and are either yellow or white.
Those hoping to see fireflies should be aware that they will be transferred to a concert atmosphere where the audience lights up their flashes. But when there are fireflies around, you will not need to use your flash because the light will be emitted by these bugs, and you will simply be able to admire their beauty.
At last, don't forget to take pictures with them!
Also read: BEST THINGS TO DO IN ROANOKE RAPIDS NORTH CAROLINA
Learn More About The Renowned Carl Sandburg At His House, A National Historic Site
Three-time Pulitzer Prize winner Carl Sandburg was a well-known literary figure in twentieth-century America. He was an accomplished poet and journalist who made significant contributions and displayed involvement throughout the contentious Civil Rights Movement. He had a remarkable personality and must have enjoyed a blissful, intriguing, and enigmatically idyllic life.
So, whether you are aware of all of his accomplishments or not, I urge you to spend some time poring over his personal life and notable works. The Carl Sandburg Home is situated in the village of Flat Rock, just outside Hendersonville, North Carolina. At this famed National Historic Site, where Sandburg spent years with his family and campaigned to promote the civil rights movement, you may get a firsthand account of his life story and legacy.
The home's landscape is now being managed by the National Park Services. Plus thanks to its apple orchard, hiking trails, and two beautiful water bodies, it treats you with an ideal nature excursion.
Take a Stroll to Sarah P. Duke Gardens
Don't miss the magnificent P. Duke Gardens on your journey to North Carolina. Taking cues from the intricate and gorgeous Italian architectural elements, this garden is a visual feast for tired eyes. The garden features a beautiful landscape design and has pathways, allées, and walks, allowing you to enjoy glorious blooms and
The garden is divided into four sections. The first one is the H.L. Blomquist Garden of Native Plants, which includes over 900 varieties of native plants. The Asiatic Arboretum, which encompasses all types of South Asian flora, is the second, and the Doris Duke Center Garden, which is utilized for promotional and commercial purposes, is the third. The final one is the Historic Garden, which houses a number of terrace gardens.
Additionally, a guided tour led by a qualified volunteer is also available to explore the grandeur of Sarah P. Duke Gardens. Thus, visiting the Sarah Duke Gardens is a delightful and equally learning experience!
Also read: BEST THINGS TO DO IN RODANTHE NC
Relive The Classic Story Of Oz At The Land Of Oz Theme Park
Almost everyone has heard of the iconic story of the Wizard of OZ, but only a few people have really lived it. However, you will have the opportunity to do so in North Carolina. Yes! There is an OZ theme park in North Carolina where you may find everything related to the Wizard of Oz.
The OZ theme Park, located in Beech Mountain, is built around L. Frank Baum's original fiction Wizard of OZ. The park has costumed characters, a yellow brick road, and live shows that more realistically reflect the illustrations of the book than the ones shown in the movie.
Here you can find every attraction based solely on the theme, and your children will especially enjoy it, so don't forget to bring them along!
Pay a visit to Morehead Planetarium and Science Center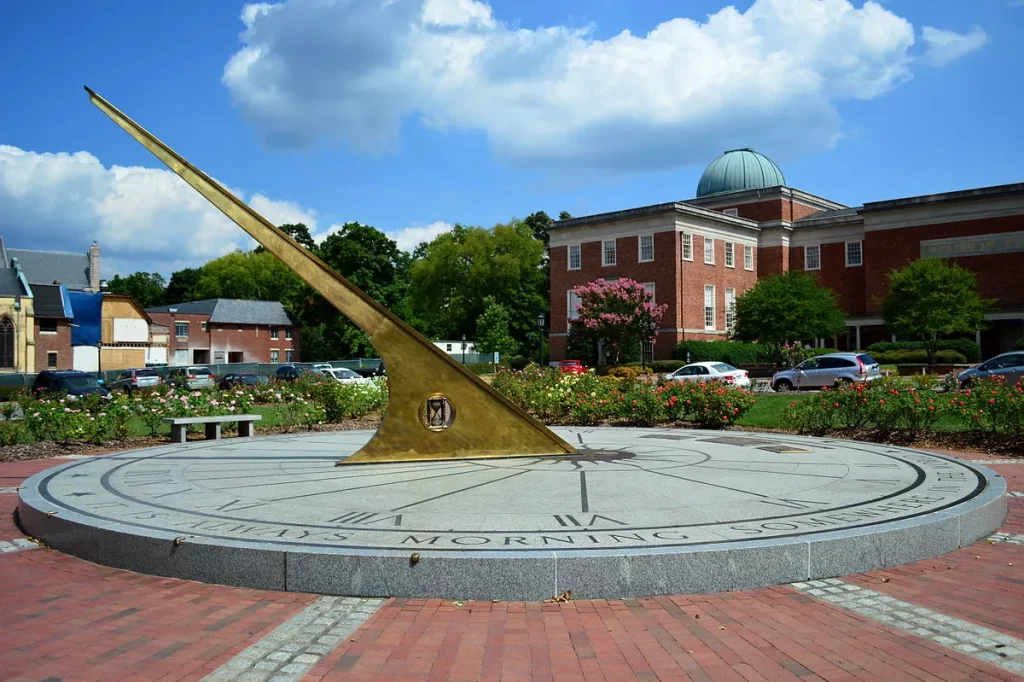 Located on Chapel Hill at the University of North Carolina, the Morehead Planetarium and Science Center has been serving its visitors since 1949 and still continues to embrace millions of visitors each year. It started as a NASA astronaut training facility but has since grown into much more.
Today, the planetarium hosts a range of exhibitions, hands-on activities, and educational programs that discuss the development of the Earth as well as the discovery of some essential devices and equipment. Along with this, the museum has a lot of instructive and vintage items that you may look at. Overall, this museum is a fantastic place for learning about both history and science.
Spend Some Quality Time At Chimney Rock State Park
Situated in the southeast of Asheville, Chimney State Park is no less than an abode for nature lovers. Taking its name from its centrepiece feature, a gigantic 315-foot freestanding spire of natural granite, this park is known to offer a one-of-a-kind experience. From the summit of this chimney rock, you can see 75 miles of natural splendour, including the sights of Hickory Nut Gorge and Lake Lure. To reach the summit, you can either take 500 steps or use an elevator. You'll feel like you're in heaven when you reach the top!
Aside from the breathtaking views, the park is brimming with various activities such as hiking paths, waterfalls, picnic sites, and eateries.
Experience the Panoramic Views at Clingmans Dome
The heavenly views of Clingmans Dome are another wonderful option in North Carolina that can make your trip memorable. Clingmans Dome is the highest point in Great Smoky Mountains National Park and is famous for offering panoramic vistas of the Smokies. The summit observation tower is about a mile away from Clingmans Dome Road and requires a challenging ascent. However, you must climb a little to reach the summit and enjoy the breathtaking views that will enlighten your mind and soul. Once you reach the top, you will realize why this destination is worth including on your itinerary.
Also read: BEST THINGS TO DO IN HIGHLANDS NC
Plunge Into The Aquatic World At North Carolina Aquarium
The North Carolina Aquarium is a series of four public aquariums situated around North Carolina. Each aquarium is unique in its own way and provides you with a wealth of information as well as entertainment and thrill.
If you want to touch and admire sharks, go to the Roanoke Island Aquarium, which boasts one of the largest shark collections. It is also known for hosting the fun and engaging Aqua Tots program for children.
Further, Jennette's Pier Aquarium in Nags Head offers some of the best views of hunchback whales along with other aquatic species. You can even go fishing in some of the regions here, but you must first obtain permission from the residents.
The remaining Fort Fisher and Pine Knoll Shores Aquariums are well-known for their educational experiences. They provide information on the state's marine species and their diversity, which is a wonderful alternative to investigate for additional knowledge.
Explore the Museum of Life and Science
For science buffs, the Museum of Life and Science is one of the best places to visit in North Carolina. Spanning over 84 acres, the museum has enough things to keep you entertained and engaged for the entire day. It features intriguing exhibits oriented toward inspiring imagination, inventiveness, and new perspectives about the world around us. The museum has around 60 live animal species, including some endangered ones as well. Additionally, the museum is known to house one of the largest butterfly conservatories on the East Coast. Other highlights in the museum include a farmyard with farm animals, a long trail of dinosaurs, Aerospace Exhibits, and a Weather-related Display.
Furthermore, children and youth can take part in fun science teaching and learning programs organized by the museum.
Explore the art at the Southern Highland Craft Guild Folk Art Center
This is a must-see for all art connoisseurs!
The Southern Highland Craft Guild Folk Art Center, located at milepost 382, on the Blue Ridge Parkway, takes pride in showcasing the unique artwork of 900 carefully handpicked artisans. The Art Center focuses on both modern and traditional Southern Appalachian painting, demonstrating the exceptional artistic ability of the region.
The Southern Highland Craft Guild Folk Art Center, founded in 1930 to assist craftspeople in North Carolina and the rest of the Appalachian region to find a market during the Great Depression, has today become a recognized art destination. It played a significant part in fostering the Arts and Crafts artistic movement in NC, despite the animosity of England's Industrial Revolution.
Aside from paintings, you may also find pottery, jewelry, woodwork, glass crafts, and sculptures here.
Accompany your kids to Marbles Kids Museum
If you are visiting North Carolina with your children, make sure to stop by this location.
Since its inception in 2007, the Marbles Kids Museum has grown to become one of North Carolina's best family-friendly locations for children, particularly those aged 0 to 10. This Kids Museum is divided into five galleries, each of which contains a range of science-related exhibits on topics such as electricity, water, music, and others. Idea Works encourages kids to build and imagine, while the Art Loft allows them to express their artistic side and Power2Play enables them to get some exercise indoors!
In addition, the Marbles Kids Museum features two open areas. One has a garden with a magnificent 22-foot-tall bloom. An IMAX theatre is also available for viewing various educational performances. The museum also provides daily educational programs and field trips for children, allowing them to utilize their imaginations to discover and learn while having fun.
Explore the Cryptozoology and Paranormal Museum
North Carolinians are well aware that frightening, ghostly experiences occur frequently in rural areas, making this museum in Littleton an obvious addition to the folklore surrounding Bigfoot and other cryptids of the woods.
Stephen Barceló, a local cryptozoologist, is the director of the Cryptozoology & Occult Museum. He keeps it well-stocked with items from his own studies and investigations.
This includes the allegedly Bigfoot-like doll Mrs Beasley, castings of alleged Bigfoot prints, tales and photographs of UFO sightings, haunted things, and even a segment on fakes that details debunked frauds like the Feejee mermaid. Thus, it's an intriguing place to visit for people seeking interest in the paranormal.
Besides, the museum not only educates visitors about the paranormal, but it also allows them to learn about the history of the town of Littleton in NC.
Explore the Pullen Park
If you're on the hunt for a full day of fun and excitement, Pullen Park is one of the top tourist attractions.
Being North Carolina's first public park and America's fifth-oldest functioning amusement park, the Pullen provides a calm, laid-back escape while also allowing you to learn more about the state's background. As a result, it is worth visiting. The park provides a wide variety of recreational options for people of all ages, including, but not limited to:
carousels, train rides, pedal boats,
rental spaces for meetings and events,
water exercise, aquatic therapy programs, recreational swimming,
athletic fields, Tennis Courts,
Arts center for pottery, jewelry making, painting, printmaking, bookmaking, drawing, fibre arts, weaving, glass arts, and more.
Discover the Discovery Place Science
The Discovery Place Science is a non-profit organization in Uptown Charlotte that has been contributing a significant impact on STEM education in the surrounding community.
Incepted in 1981, the Exploration Center boasts a rich and extensive history. Laura Owens, a school teacher, founded the museum to provide her children with a hands-on, participatory experience where they may explore and learn.
However, Discovery Place Science has expanded into a full-fledged museum. It covers 72,000 square feet and features a variety of experiments, interactive exhibitions, live animal presentations, a butterfly pavilion, and even an IMAX Dome Theatre. Furthermore, the museum has three additional venues across the country that are equally worthwhile to visit if you are close.
Also read: BEST THINGS TO DO IN SANFORD NC
Delve Into The Region's History At The North Carolina Museum Of History
If you're hoping to uncover more about the state's rich past pleasantly and entertainingly, the North Carolina Museum of History is an excellent choice.
Located in the heart of Raleigh, the museum houses an incredible 150,000 diverse exhibits that have been collected over six centuries. These historical artefacts displayed in an immersive setting enable you to have a close look at every important aspect of the region. Additionally, the museum also has a provision for digital exhibit tours. Everyone, whether adults, children, the elderly, educators, or students, will have a positive learning experience here.
Explore The Unique Wheels Through Time Museum
The Wheels Through Time Museum is a must-see sight for automobile fans. This 40,000-square-foot museum in Maggie Valley, NC, features the world's greatest collection of historic vehicles. It features almost 350 distinct autos and motorcycles beautifully categorized for simple browsing in a chronological sequence. The museum has received lots of praise and is known to provide visitors with an inside look at the progression of American riding and automotive history.
There is also an exhibit of memorabilia, artwork, and artefacts related to these automobiles. Therefore, it's a must-see for car and automobile fanatics!
Visit the Great Smoky Mountain National Park
A journey to North Carolina would be worthless without a stop at the Great Smoky Mountains National Park. This flora and fauna-rich national park is a highlight of the North Carolina itinerary. It is one of the most biodiverse areas of the region and also serves as an important venue for the historical preservation of the culture of the southern Appalachian people. The temperate habitat of the national park, which extends along 800 square miles, is home to thousands of plant and animal species, as well as a number of possible unknown species.
It also includes over 850 hiking trails and some of North Carolina's most prominent peaks, giving adventurous travellers with breathtaking mountain views, camping opportunities, and lots of natural interactions. Besides, the Great Smoky Mountains National Park also features a number of ancient structures that are both informative and entertaining to spend time exploring. Overall, there are several activities to enjoy at the Great Smoky Mountains National Park.
Pay A Visit To Carolina Maritime Museum
The North Carolina Maritime Museum provides insight into the state's coastal history. The artefacts displayed at the museum's three distinct venues portray a picture of North Carolina's background and maritime culture. The museum illustrates the history of fishing, boating, piracy, conflict, underwater archaeology, shipwrecks, boating, marine life, science, and ecology.
The museum has three unique facilities situated in popular tourist areas, all thriving with the same goal of educating and informing tourists while protecting the state's legacy and coral reefs. Each location is unique and offers a wide range of free activities to try your hands at.
At Hatteras, the displays cover the history of shipwrecks in the area.
Southport primarily focuses on the marine heritage of Lower Cape Fear.
And real buildings and artefacts can be discovered in the Beaufort section, which is a wonderful collection. Among them are those discovered on the famed Queen Anne's Revenge, Blackbeard's own ship.
Feel the Rejuvenating Vibe at JC Ralston Arboretum
The JC Ralston Arboretum is a must-see for anyone who appreciates nature.
This Arboretum, located in Raleigh and part of NC State University, was founded in 1975 by JC Raulston, a Horticultural Science teacher. He established an arboretum to provide a living testing ground for the school, a green space for the general public, and resources for individuals working in the environmental field.
Housing around 5,000+ varieties of plants for educational exhibition and research, this garden is one of the biggest of its kind. It is worth visiting for a rejuvenating experience. The surrounding greenery and unique vibe of landscaping plants render the garden with a welcoming aura.
So, if you want to have a refreshing experience without spending a dime, come here.
Relax at Mordecai Historic Park
Mordecai Historic Park in Raleigh is one of North Carolina's landmark locations. The Park is recognized to be the location of Raleigh's first house, making it a must-see for history buffs. However, there are other reasons why this park is popular with tourists, one of which is that it is the birthplace of President Andrew Johnson, the 17th American president of the US.
Aside from that, the park boasts state-of-the-art facilities that give you a relatively accurate impression of late-1700s life and events. Mordecai Historic Park, which features the Mordecai Mansion, is spread across 3.2 acres and also includes a Visitor Centre Gallery and St. Mark's Chapel. Don't miss the kitchen garden, which was rebuilt based on Ellen Mordecai's writings and recollections, as well as a description from the nineteenth century. Remember to check out the Kitchen Garden, it's one of the nicest features of the Mordecai Historic Park!
Be A Guest At Shangri-La Stone Village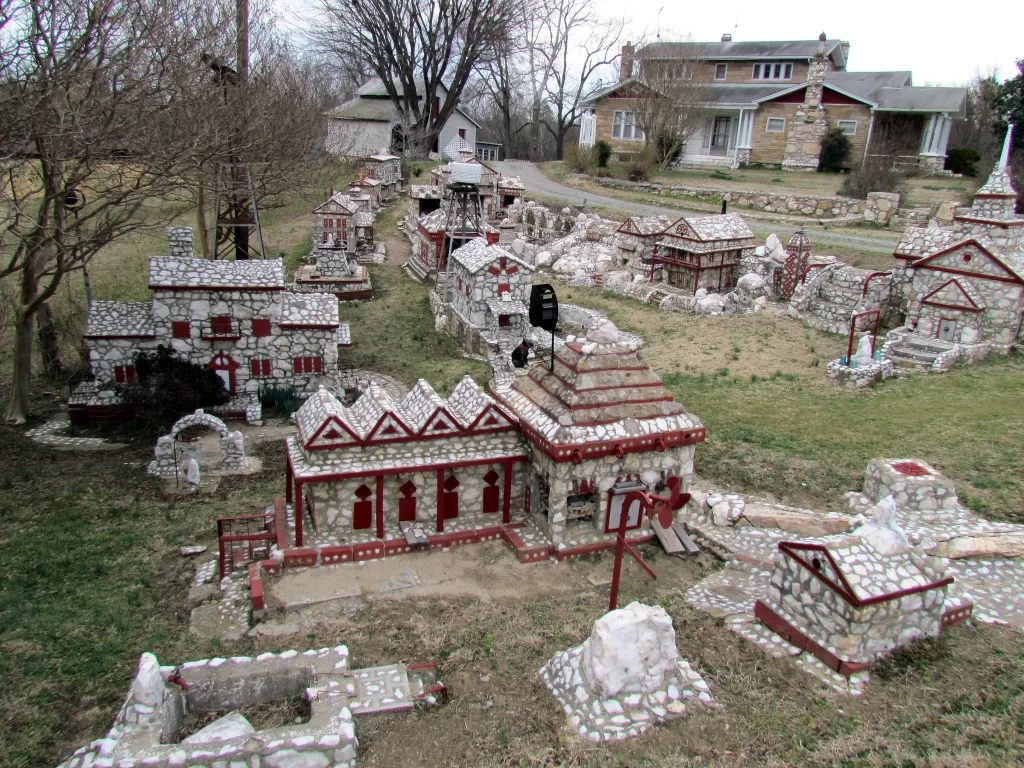 The Shangri-La Stone Village in North Carolina is a popular storybook town, built by a passionate hobbyist Henry L. Warren. However, contrary to the other villages you've seen, the buildings in this hamlet are just five feet tall and fashioned with stone from a nearby quarry.
After retiring from his job in 1968, Henry started building this miniature settlement, which is just the correct size for tiny fantasy gnomes. He subsequently began working on structures composed of stone, concrete, and arrowheads. And, thanks to the endurance of their stone, the structures have stood proudly ever since, braving snowstorms and storms. Winding your way through tens of thousands of arrowheads while viewing the miniature homes is one of the most enjoyable things to do in North Carolina, so make sure to bookmark this place.
Explore The Story And Mystery Of Road To Nowhere
If you like mysteries, the Fontana Dam, the tallest dam in the eastern United States, is the ple to be. The Road to Nowhere story begins here. This is a mountain route that runs up to 6 miles into the Great Smoky Mountains National Park and ends at the mouth of a tunnel, thus the name Road to Nowhere.
This road was built as a "compromise" for the small settlements and people that were swept away during dam construction, allowing them to travel out and, if desired, continue to visit their ancestral homes. Construction was halted after environmental concerns about the road's acidity were raised, leaving this unfinished Road to Nowhere that currently lays in wait. Although the journey on this road leads nowhere, it provides a breathtaking view of the surrounding mountain beauty.
Also read: BEST THINGS TO DO IN LEXINGTON NC
Plan Your Vacation to North Carolina Today!
North Carolina has a lot of hidden gems. We attempted to hand-pick the best ones, but there are plenty more to discover on your trip to North Carolina. So hurry up and arrange your journey based on your destination preferences. However, no matter where you travel in North Carolina, the state will always welcome you with open arms!