No matter if you enjoy the summer heat or are hoping to escape the severe winters up in the north, Miami is a great place to visit or live in. Renowned for its endless miles of breathtaking, sun-kissed coastline; you'll note that each beach in Miami has its distinct ambiance. The beaches here will astound you with their powdery, sugar-white sand, and crystal-clear, turquoise waters.
Furthermore, Miami is a wonderful destination to accompany your furry friend. There is a lot more for your pet to do in Miami than just unwind in the hotel room with the air conditioner on.
After all, dogs love playing in the sand and splashing on beaches more than anything else. The city of Miami is dotted with a plethora of dog friendly parks and off-leash dog beaches where your pet friend may run around in the grass, dive in the water, and romp in the sand. Just keep in mind to carry lots of water, pick up after your dog, and make sure that your dog is up to date on vaccinations.
Some remarkable dog friendly beaches and parks in Miami, Florida are listed below. These handpicked locations will help you relax, splash about, and get some sunshine with your four-legged companion.
#1. Hobie Island Beach Park:
On the north side of Rickenbacker Causeway is Hobie Island Beach Park. The "Windsurfer Beach" as it is also affectionately known, is well-known for windsurfing. This beautiful beach is well-known for being extremely dog-friendly.
The fine-grained sand, calm waters, and beautiful skyline make this one of the most enticing beaches for your four-legged little buddies. Given that the water is shallow, your dog can freely wander whether they are on a leash or off one. They can even jump and splash in the water without causing any alarm.
This dog-friendly beach is open from 6:30 a.m. to 8:00 p.m. and features spectacular panoramas of the city skyline. Bring a frisbee and enjoy an afternoon playing fetch with your four-legged friend while mingling with other pet owners and watching the sunset.
Also read: 8 Best Dog Friendly Beaches In Maryland
#2. Haulover Beach Dog Park:
Situated in the north of Miami Beach, between the Atlantic Ocean and the Intracoastal Waterway, is Haulover Beach. This is one of the most picturesque and expansive beaches in the world. It is ideal for sunbathing with your dog; thanks to the crystal-clear water, soft sand, and lovely fountains.
Near the south picnic area, it offers a bark park with two enclosures: one for small dogs (under 35 lbs.) and another for large dogs (over 35 lbs.). The bark park has dog waste stations, picnic tables, and drinking fountains for dogs and humans. Dog lovers enjoy the welcoming ambiance of this vast beach, gathering between the hours of 8 am and 3 pm (when dogs are permitted on the sand between lifeguard towers #2 and #3) to let their dogs run about and get sandy.
This beach is ideal for families looking to relax and unwind. Here, you can spend time together with your pet while soaking up the sunshine. The allure of this beach extends to both humans and dogs. Its various attractions include accessible parking, rentals, snacks, picnic tables, water fountains, shower areas for both humans and dogs, etc.
Also read: 6 Best Dog Friendly Beaches in Monterey
#3. Hollywood Dog Beach:
The Hollywood Dog Beach in Miami offers a calm atmosphere and a memorable experience for both humans and their pets. This beach is nestled between Sheridan Street and Dania Beach Boulevard. It is open from 9 am to 5 pm on Monday through Thursday and from 9 am to 3 pm on Friday through Sunday.
Here, all breeds of dogs—small, medium-sized, and large—are welcomed with open arms. This is the perfect setting for some quality time with your furry friend in the heart of nature.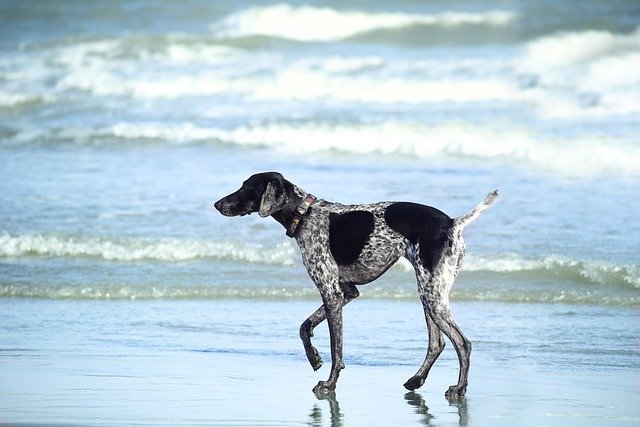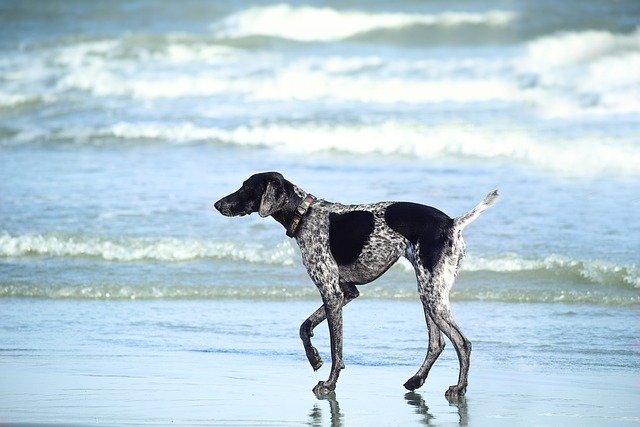 #4. Bark Beach at North Beach Oceanside Park:
Bark Park is an eight-block coastal park with jogging routes, fitness stations, and picnic shelters. This dog-friendly beach comprises two main off-leash, fenced-in dog spaces—one for little dogs and one for large dogs—and offers shaded trees, water fountains, and a massive blue ocean all year long.
This park encompasses a tranquil atmosphere, finely landscaped greenery, and turquoise waters, making it an ideal getaway from bustling city life. It also offers access to the beach as well as on-leash walking areas and trash stations. It is open between 1:30 and 5:30 p.m. on Fridays, Saturdays, and Sundays.
In addition to having a collar and rabies tag on them at all times, your dog must be up-to-date with their mandatory vaccinations to be able to visit the beach and the dog park. Your dogs must also always be on a leash, except for certain locations where you can let them play in the sand and enjoy the Miami heat.
Also read: Dog Friendly Beaches In St Augustine Florida
#5. South Pointe Park:
Encapsulated by shady palm trees and a panoramic view of the South Pointe Pier, this magnificent dog-friendly beach lies on the southernmost point of Miami Beach. This 17-acre recreation area offers more than just a dog friendly beach. It also has lovely waterfront nature trails, playgrounds, and a huge park where your pet can have some off-leash fun from dawn until 10 a.m. and from 4:30 to 8:00 p.m.
There are also numerous picnic and BBQ areas, bike paths, and splash sites for kids. This bustling section of the coastline has breathtaking views of the Atlantic Ocean and the opulent skyline of downtown Miami. Plus, it has a Government Cut man-made shipping channel linking Miami Beach with Fisher Island. Thus, it's a great place to begin or end your day while walking around with your dog and enjoying the golden hour sky.
Also read: Dog Friendly Beaches in Galveston: A Heavenly Abode for Pet Parents
#6. Lummus Park:
Lummus Park is the ideal place to sunbathe, swim, and soak up in the evening sun. It is situated halfway between the Atlantic Ocean and popular Ocean Drive. This dog friendly park is a ten-block South Beach area offering dogs an enclosed space to jump around and play as much as they want.
Compared to the popular main South Beach region, this beach is less crowded, which is appreciated by visitors—both humans and dogs. This park is surrounded by lush trees, and also has several additional attractions, including fountains, playgrounds, local artwork, and a popular outdoor fitness center if you're looking to work out. Just be sure that your dog observes the sea turtles from far away as they must not be trifled with.
Also read: Dog Friendly Beaches in Orange County, California
#7. Washington Avenue Bark Park:
The Washington Avenue Bark Park is an enclosed, off-leash dog park also with access to people bound in wheelchairs. This park is situated on 2nd Street near the NE corner of Washington Avenue. The distinguishable elements of this park include water fountains, benches, lush trees, and a concrete walking pathway. For small and large dogs to play with canines of their size, there are two distinct zones available with water as well as trash stations. To enter the beach, it is advisable that your dog must be vaccinated and must also be wearing its identification tag.
Also read: Best Dog Friendly Beaches In Cape Cod
#8. Pinetree Bark Park:
Across from Indian Creek lies this park called the PineTree Bark Park. Aside from some mulched parts, this dog-friendly park offers a lot of open space and shady trees for your furry companions to play around and enjoy. In this sizable, fenced park, your dog is welcome to run free without a leash. There are also beautiful drinking fountains with dog water spigots, and trash stations, along with several benches for you to relax and unwind on.
Also read: 5 Best Dog Friendly Beaches On Long Island
Choose your favorite Dog-friendly Beach or Park to visit in Miami, FL
Whether you're just traveling through Miami or are a permanent resident of the city, these breathtaking beaches, and parks in Miami, Florida should be on your list. These places are just perfect for a full day of fun with your furry friend by your side. You'll never have more pleasure than watching your pet play with other dogs and run through the surf.