The combination of a resistance exercise from walking in sand and the joy our dogs get from splashing about makes beach walks popular among dog owners. The Mid-Atlantic region of Maryland has lots of water-surrounded coves and treks, making it ideal for dedicated dog beaches and groomed trails. When it comes to summertime activities, nothing beats spending time at the beach, especially if you can bring your pet along with you! Here are the 8 best dog friendly beaches in Maryland.
Best Dog Friendly beaches in Maryland
North Point State Park, Edgemere MD
North Point State Park, the site of a lengthy but enormously famous amusement park in the early 1900s, has preserved a few relics of its former glory, including an old pier, a trolley station, and a stunning center fountain. Take your dog for a hike across acres of hiking paths in the park's woodland areas as well as the "Black Marsh" wetlands, where you could see blue herons and bald eagles. All year long, dogs and their owners are invited to explore the paths with their companions. Despite this, personal companions are only permitted to visit the day-use zones between Memorial Day and Labor Day, due to the high volume of summer tourism. Also, you might be required to carry your ESA letter if you are visiting with your emotional support dog.
Also read: Dog Friendly Beaches in Orange County, California
Matapeake clubhouse and public beach, Stevensville, MD
Don't let the name fool you, Matapeake Clubhouse and Public Beach is simply another name for Matapeake State Park, not a private country club. Popular with wedding planners, the magnificent main structure was previously a ferry terminal that connected Kent Island to the Chesapeake Bay's western shore. The tranquility of this beachfront property may be experienced by just crossing Highway 50 onto the Chesapeake Bay Bridge and traveling south on Highway 8.
Owners must carry plastic bags for cleaning and not allow their pets to run free on the public beach, clubhouse, or grass. It is not necessary to pay to visit Matapeake Beach, unlike the other Maryland beaches on this list, and non-glass containers are accepted for drinking water here.
Also read: Dog Friendly Beaches in Galveston: A Heavenly Abode for Pet Parents
Assateague Island National Seashore, Berlin, MD
Assateague Island (near Maryland's southernmost tip) has the state's most incredible view of the Atlantic Ocean, as well as lush marshland and a herd of wild horses roaming the grounds. Turn right after crossing the Verrazano Bridge and continue down the road until you reach the over-sand vehicle zone.
You and your dog are allowed to roam kilometers of nearly-white sand at this point, as long as it keeps under six feet on a leash and doesn't harm the ponies. Don't wander across the Virginia state boundary, either; dogs aren't allowed on Chincoteague Island, even though it's the same "island." Clamming is very popular here, and signage around the National Seashore shows where to dig low tide. A $3 per person entry fee is charged to enter the park, which is open 24 hours a day, seven days a week.
Also read: Dog Friendly Beaches In St Augustine Florida
Downs Memorial Park Dog Beach
Located off the perimeter walk at downs memorial park, downs memorial park dog beach is a terrific place for puppies to learn to swim as well as experienced canine swimmers to cool down and relax in the water. It is one of the best dog friendly beaches in Maryland. When you and your dog have had enough water fun, take a stroll through the park's more than 5 miles of trails.
Also read: Dog Friendly Beaches and Parks In Miami, Florida
Terrapin Nature Park
The only way to get to this hidden treasure of a park is through an industrial/business neighborhood. Log canoe circle leads to the entrance. Park at the lot and walk along the trail. The walk goes through forests, marsh, and tidal ponds as it round the 270-acre nature area. The beach isn't particularly large, but rover it. The beach, which stretches down the Chesapeake's shoreline and allows dogs on a leash, may be reached by using one of the side trails to the left of the road. It was a pleasure to spend time there since the views of the bay are stunning, and the surrounding region is calm.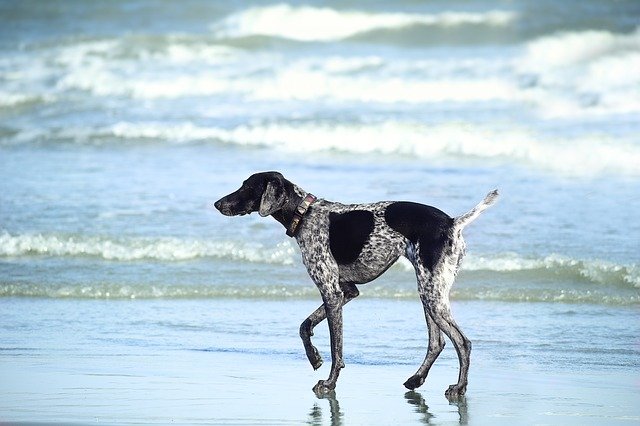 Bayfront Park
Bayfront park is located at 7255 Bay side road, Chesapeake beach, MD, 20732. Fees are $13 for resident from another county and nine dollars for a kid from Memorial Day to Labor Day (up to age 11). It is completely free during the off-season. Brownie's Beach or Bayfront park is a dog-friendly beach on the Chesapeake Bay that welcomes dogs on leashes. Explore the beach in search of old shark teeth, play in the waves, or have a refreshing dip.
Also read: Top Things To Do In St. Petersburg Florida
Elk Neck State Park
North East, MD 21901, 4395 Turkey Point Rd. Price: Admission is $3 per car on weekdays and $3 per person on weekends, but if you're traveling from beyond Maryland, add $1 to each payment.
The 2,000-acre protected wilderness has a variety of terrain, sights, and landmarks, but the North East Beach Area, where dogs may run about and swim in the off-season, is the lure for dog owners. People may swim here as well, but only when buoys are posted and only during the summer months; in the absence of swimming weather or desire, stroll with a canine friend to the end of White Banks Trail to observe cliff drops and stunning bay vistas.
Also read: 6 Best Dog Friendly Beaches in Monterey
Calvert Cliffs State Park, Lusby, MD
Have some curious children and a dog to walk? The tranquil 2 miles "Red Trail" takes you into Calvert Cliffs State Park, which is a protected wetland with birds and amphibians that extends across a vast geologically significant area consisting of high bluffs, cliffs. At the shore, you can find shark teeth and other fossils within the rocks (don't get too close to the cliffs!) This makes them simpler by using a distinctive sifter. Bring insect repellent along with $5 cash per vehicle prior to visiting the park in order to prevent mosquitoes from the marsh. Calvert Cliffs welcome pets all year but be mindful of crowds in the summer.