Welcome to Downtown Cincinnati, a vibrant and bustling city center filled with endless opportunities for adventure and exploration!! From rich history to stunning architecture and from thriving arts to culture, this downtown area is full of amazing experiences that are sure to leave a lasting impression on your mind.
For those who love history, a visit to the National Underground Railroad Freedom Center is a must-see. This powerful museum tells the stories of those who fought for freedom and highlights the struggle for civil rights in America.
Architecture enthusiasts will appreciate the incredible structures that line the streets of Downtown Cincinnati, including the stunning Art Deco Union Terminal and the Gothic Revival-style St. Peter in Chains Cathedral.
But it's not just about the history and architecture in Downtown Cincinnati – the city also boasts a vibrant arts and culture scene. The Cincinnati Art Museum is a must-see for art aficionados, and the Aronoff Center for the Arts hosts some of the best theater and dance acts in the region.
And for those who love to shop and dine, Downtown Cincinnati offers a wide range of boutiques, galleries, and restaurants that cater to every taste and budget. From upscale steakhouses to cosy cafes, there's something for everyone in this bustling city center.
So come and explore all that this incredible city has to offer, and experience the best of Downtown Cincinnati, Ohio.
1. Cincinnati Zoo & Botanical Garden
Nestled in the heart of Downtown Cincinnati lies the Cincinnati Zoo & Botanical Garden, a sprawling oasis of wildlife and botanical beauty. As one of the oldest and most respected zoos in the country, this incredible destination offers visitors a chance to experience the wonders of the natural world up close and personally.
The Cincinnati Zoo is home to a vast array of animals from all corners of the globe, including majestic tigers, playful monkeys, and massive elephants.
It also has a stunning botanical garden that showcases the incredible diversity of plant life. From exotic orchids to towering trees, visitors have a lot to explore. As a consequence, this zoo is inhabited by an extensive range of flora and fauna, including some of the world's rarest and most beautiful species.
Also read: THINGS TO DO IN SALVO NC
2. Great American Ball Park
Great American Ball Park is the home of the Cincinnati Reds baseball team and one of Major League Baseball's most recognizable ballparks. Located in the centre of Downtown Cincinnati, this stunning open-air stadium offers visitors a chance to experience America's favourite pastime in an unforgettable setting.
From the moment you step inside Great American Ball Park, you'll be struck by its magnificent architecture and unparalleled views of the city skyline. With its unique blend of modern amenities and classic ballpark charm, this stadium is the perfect place to enjoy a game with family and friends.
Are you hoping for more? The stadium also stages music concerts, has many game fields, and concessionary cafés and pubs to keep you entertained.
Also read: THINGS TO DO IN BLOWING ROCK NC
3. Cincinnati Art Museum
The Cincinnati Art Museum is a noteworthy institution that celebrates art and culture from all around the world. As soon as you walk through the grand entrance of the museum, you are immediately transported into a world of beauty, creativity, and wonder.
The museum's extensive collection of more than 67,000 works of art spans over 6,000 years of human history, showcasing the rich diversity and evolution of art across different civilizations and cultures.
One of the most striking features of the museum is its architecture. The iconic, neoclassical building boasts a grand staircase, a stunning rotunda, and soaring columns that exude a sense of grandeur and elegance. The galleries are beautifully arranged and well-lit, creating an atmosphere of calmness and serenity, allowing visitors to fully immerse themselves in the art.
Also read: THINGS TO DO IN SYLVA NC
4. Cincinnati Museum Center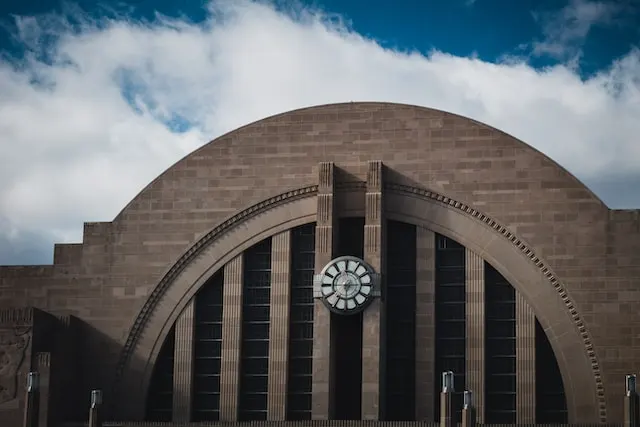 Housed in the beautifully restored Union Terminal, the museum centre is not just a museum, but a destination that offers a plethora of educational and entertaining experiences for visitors of all ages.
The museum's Union Terminal architecture is a masterpiece that transports visitors back to the golden age of train travel. The grand rotunda, soaring columns, and intricate mosaics create a sense of grandeur and awe, setting the stage for an unforgettable journey through time and space.
Inside the museum centre, there are several other museums, including the Cincinnati History Museum, the Museum of Natural History and Science, and the Robert D. Lindner Theater. The exhibits at the Cincinnati History Museum, provide visitors with a journey through the city's past, from its early days as a frontier town to its rise as a bustling metropolis. While the Museum Of Natural History And Science features dinosaur fossils and a variety of instructive interactive displays.
Also read: Things To Do In Gastonia NC
5. American Sign Museum
The American Sign Museum boasts an impressive collection of over 100 years of American signage, showcasing the evolution of sign-making from the early 1900s to the present day. The museum's permanent collection includes a wide range of signs, from iconic neon signs that once adorned the streets of America's cities to vintage advertisements that once graced the pages of magazines and newspapers.
The museum's attention to detail is one of its most remarkable attributes. The signs on display are not just artefacts; they are works of art that have been carefully restored to their former glory. The museum's expert restorers have painstakingly recreated the intricate details and vibrant colors of each sign, bringing them back to life in all their glory.
Also read: Things To Do In Salisbury NC
6. National Underground Railroad Freedom Center
The National Underground Railroad Freedom Center is not just a museum; it's a place of education and activity. The museum offers various educational programs and activities for all ages, including lectures, workshops, and interactive tours. Visitors can learn about the history of slavery and its impact on American society, as well as the ongoing struggle for civil rights and social justice.
One of the most striking exhibits at the museum is the Slave Pen, a chilling reminder of the horrors of slavery. The pen is a reconstruction of an actual slave pen that was used to house and sell slaves in the early 1800s. The exhibit offers a glimpse into the brutal reality of slavery and serves as a powerful reminder of the courage and resilience of those who fought against it.
The museum also has a range of interactive exhibits that allow visitors to immerse themselves in the history and culture of the Underground Railroad. The exhibits use state-of-the-art technology and multimedia displays to bring the stories of freedom fighters to life, allowing visitors to experience their struggles and triumphs in a deeply personal way.
Also read: Things To Do In Calabash NC
7. Roebling Suspension Bridge
Stretching across the Ohio River, the Roebling Suspension Bridge is a stunning architectural marvel that has become an iconic symbol of Cincinnati.
Walking along the bridge, you can't help but marvel at its beauty and grace. The bridge's sweeping curves and elegant cables create a sense of grandeur and power, while its intricate details and delicate trusses reveal the precision and craftsmanship that went into its construction.
The Roebling Suspension Bridge is not just a work of art; it's a testament to human ingenuity and innovation. The bridge was built in the mid-1800s, at a time when suspension bridges were still a relatively new and untested technology. Roebling's design was revolutionary, incorporating new materials and techniques that had never been used before.
Now, this bridge is on the National Register of Historic Places and is the site of the annual Roeblingest.
Also read: THINGS TO DO IN RODANTHE NC
8. Smale Riverfront Park
The Smale Riverfront Park covers more than 45 acres and offers a wide range of activities and attractions, making it a popular destination among both visitors and locals. As you enter the park, you are immediately struck by the beauty of the landscape. The park features lush gardens, scenic walkways, and breathtaking views of the river and the Cincinnati skyline. Whether you're looking for a peaceful place to relax or an exciting place to enjoy with family, Smale Riverfront Park is the place you need to be.
Another popular attraction at the park is the Carol Ann's Carousel, a beautiful vintage-style carousel that features hand-carved animals and whimsical music. The carousel is housed in a stunning glass pavilion and offers stunning views of the river and the city.
Also read: THINGS TO DO IN HIGHLANDS NC
9. Krohn Conservatory
Krohn Conservatory is a true gem of Cincinnati, a botanical paradise with a stunning glasshouse that has been delighting visitors for over 90 years. The Conservatory has an impressive collection of exotic plants, lush gardens, and vibrant displays of butterflies.
As you step through the doors of Krohn Conservatory, you are transported into a world of wonder and beauty. The air is warm and humid, filled with the sweet scent of blooming flowers and the gentle rustle of leaves. The light streams in through the glass walls, illuminating the space with a soft, ethereal glow.
Throughout the year, the conservatory hosts a variety of events and programs, from educational classes to musical performances. And whether you're a seasoned botanist or just looking for a peaceful escape from the hustle and bustle of city life, the Krohn Conservatory is something you need to explore.
Also read: THINGS TO DO IN SANFORD NC
10. Spring Grove Cemetery & Arboretum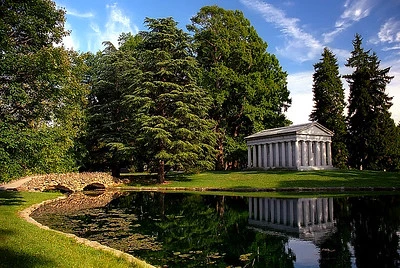 Spring Grove Cemetery & Arboretum is not just a place of final resting for loved ones, but a true celebration of life and nature. This serene and peaceful 733-acre oasis in Cincinnati features some of the most beautiful gardens, trees, and landscapes in the region.
As you stroll along the winding paths that meander through the park-like grounds, you'll be amazed by the sheer variety of flora that surrounds you. The Arboretum boasts over 1,200 species of trees and plants, with everything from towering oaks and majestic magnolias to delicate wildflowers and fragrant herbs.
Also read: Things To Do In Thackerville OK
11. Fountain Square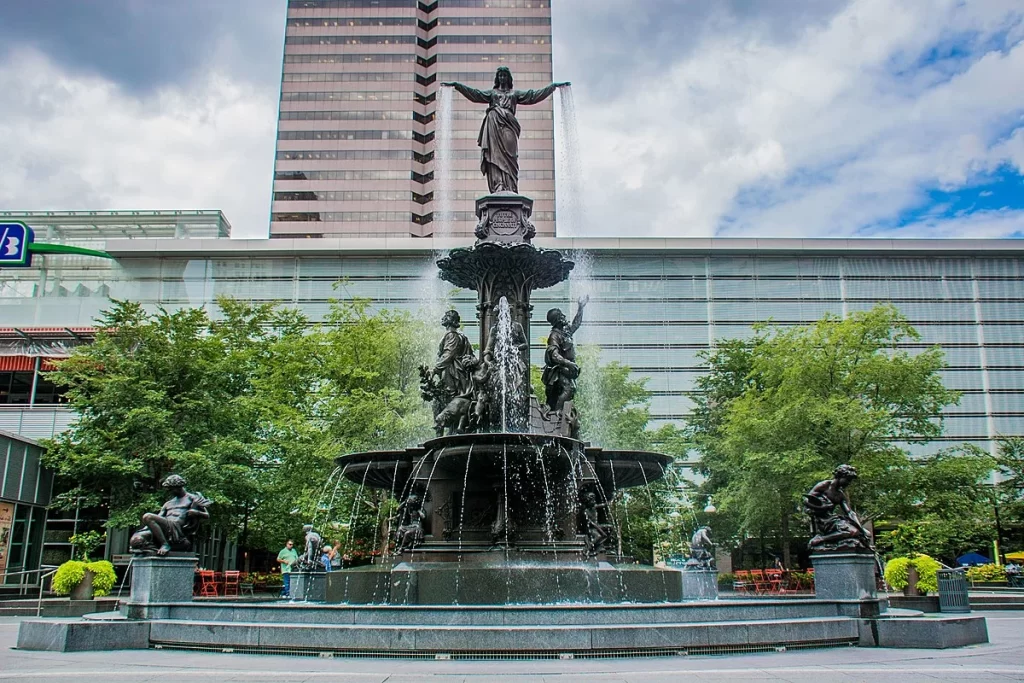 Since 1871, Fountain Square has been serving as the primary focus of the city's booming entertainment. This popular attraction is far more than a street with a picturesque fountain. In addition to the iconic bronze Tyler Davidson Fountain with four different figures depicting the value of water, the square is also a thriving social hub. It is encircled by popular restaurants, cafeterias, and shops.
All around the year, the square also puts on a number of free events and festivals, including the world-famous Oktoberfest Zinzinnati.
So, before you visit, remember to check out the events that are going to take place here.
Also read: Things to Do in Chickasha OK
12. Take a Cincinnati Skyline Tour
Surrounded by modern skyscrapers and classic architectural marvels, a skyline tour of Cincinnati will reward you with an amazing experience that you'll cherish for the remainder of your life. Planning a helicopter tour of the city would allow you to make the most of your stay there. There are special flight packages available which are even customisable as per your wish.
You can book your aerial excursion with Stratus Helicopters. They also offer bespoke customized flight packages to suit your preferences.
Also read: THINGS TO DO IN POTEAU OK
Wrapping up
In conclusion, Downtown Cincinnati is a vibrant and dynamic city that offers something for everyone. Whether you're a history buff, an art lover, a foodie, or just looking for a fun night out, there's no shortage of things to see and do in this bustling metropolis.
No matter what your interests may be, Downtown Cincinnati is a must-visit destination that promises endless opportunities for adventure and excitement.