Spain's diverse landscapes paint a pretty scenery, offering a unique experience for all types of adventurers! Drop your jaw at human-made artwork in the form of Spain's historical architecture or revel in the postcard scenes brushed by nature in the mountains, hills, and along the coast. So, where to start?
Let's look at some of the more adventurous destinations in Spain to add to your bucket list. The following destinations are great places for anyone seeking a glimpse of Spain outside of the typical tourist destinations, with the added bonus of getting a little sweaty while you explore!
1. Picos de Europa National Park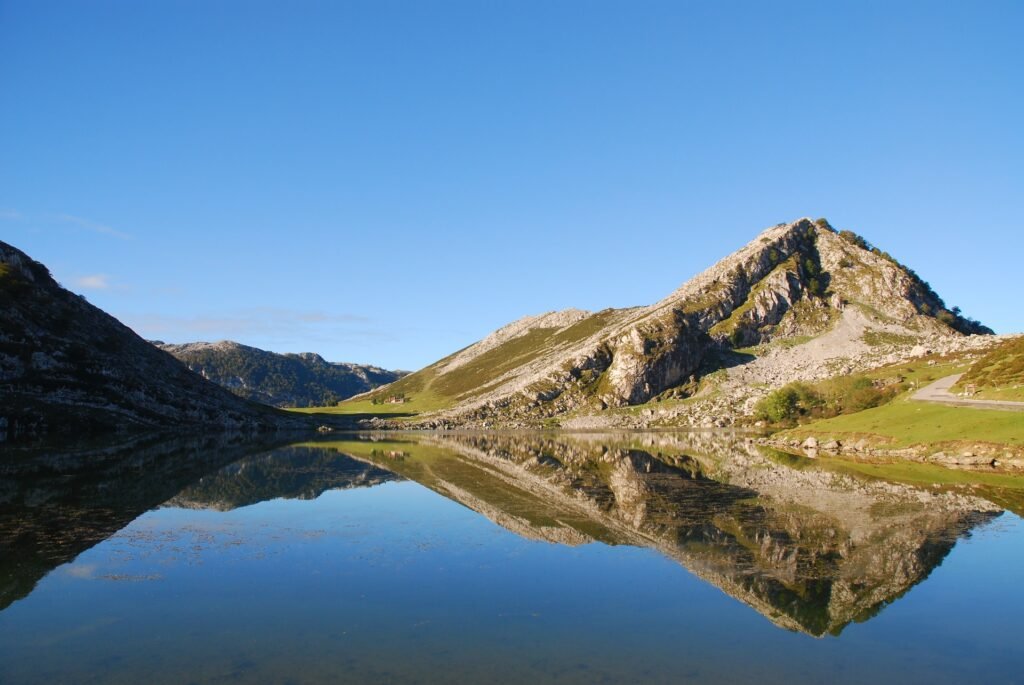 The jagged, green-laden mountains spanning Picos de Europa National Park create ample opportunity for adventures. You'll find three monstrous peaks (among the many smaller ones) here: Macizo Ándara (2444m), Macizo Del Cornión (2596m), Macizo Central (2648m), and below the shadows of these peaks, fairytale meadows and roaring rivers decorate the scenery.
What are some adventures you can do here? Go on a hike! Some worth checking out are Lagos de Covagonda, Horcados Rojos Summit, and Bulnes to Sotres. Another great activity is cave exploring—consider adventuring one of the top 10 deepest caves in the world: Torca del Cuevon.
2. Santiago de Compostela
Santiago de Compostela is the final destination of the famous Camino de Santiago, a walking route brimming with faded footprints from thousands of years ago. Every year, pilgrims travel as far as 820km by foot to reach Santiago de Compostela! The history embedded in the architecture fused with a lively culture and the overall joy of those who just completed an exhausting pilgrimage creates a fun, relaxing environment.
You're probably wondering why people bother walking the Camino de Santiago to reach Santiago de Compostela? In the 9th century, the apostle St. James was buried in the architectural wonder, the Santiago de Compostela Cathedral. As a result, thousands and thousands of pilgrims travelled by foot to show their respect for St. James, resulting in the creation of the Camino de Santiago, which now boasts several different routes varying in length. Thankfully, you can find self-guided tours for the Camino de Santiago if you're interested in tackling this adventure.
3. Canary Islands
Revel in the mesmerizing bright blue seascape when visiting the Canary Islands. But backing the glistening waters sits a collage of scenery: dunes, volcanoes, mountains, waterfalls, and stunning architecture. It's almost as if the Canary Islands are a microcosm of Spain's vast topography. You can visit canarydreaming.com for planning a trip to this amazing islands.
Where should you go if you're on the Canary Islands? Tenerife, La Palma, Lanzarote, and Gran Canaria are some notable destinations here. Go surfing, hiking, diving, snorkeling, and paragliding (to name a few) while exploring the Canary Islands.
4. Montserrat
Located in Catalonia, Montserrat boasts epic routes for avid climbers! The first you'll see when you arrive? Without a doubt, the Montserrat Mountain. Its unique formation demands attention, beckoning out-of-towners and day-trippers from the nearby Barcelona with beauty and adventure. But your admiration won't solely rest on the impressive mountain but also on the Montserrat Cathedral, an architectural monument stamped with a spiritual backstory, harking back to the 9th century.
What are other outdoor adventures you can do here? You'll be happy to know that there are some incredible hikes in Montserrat Natural Park. Also, a visit to Montserrat makes for a great day trip from Barcelona—it's only around 50km away. Talk about a terrific way to escape the city and breathe in some sweet natural air.
5. Mallorca
Mallorca, a Balearic Island in the Mediterranean, boasts a range of adventures, but one of the main reasons people flock here is to visit the otherworldly, enchanting Caves of Drach! Feel like you've dipped into an epic adventure story while exploring these caves. You'll discover the four connected caves: Black, White, French, and Cave of Luis Salvador—the various chambers create an unforgettable theatrical-like experience, thanks to lighting highlighting the intricacies of the caves! And to top it off, you'll get to check out an underground lake, Martel Lake.
Also read: Pink Sand Clearwater Beach Florida
What other adventures can you do around Mallorca? Go scuba diving, explore wrecks and caves, take a boat trip atop the bright blue waters, snorkelling, and watch the colourful fish revel in their natural habitat. Other great adventure options are kayaking, canyoning, and paddleboarding.
These are only some of the adventure destination options within Spain! You'll find a vast collection of villages, towns, and cities to visit that best cater to your travel style.