Goa is undoubtedly the most sought-after holiday destination in India. Whether you are a tourist from the domestic terrain within the country or an international traveller, Goa is bound to leave you fascinated and charmed for a good while. The state is a magnificent blend of the Western Ghats and the Arabian Sea which you can clearly witness in its pristine beaches. Although these beaches are crowded throughout the year, the beauty of the coastline is unparalleled.
Since I am personally fond of beaches and authentic seafood, it was inevitable for me to visit the beaches in Goa. Although Goa is well connected with flights with the rest of the country, being a Mumbai resident, I availed one of the Mumbai to Goa flights and reached there for a solo summer holiday. Due to time shortage, I could only cover the eminent beaches of Goa. These are some of the best beaches where I made my presence.
Baga Beach
Baga Beach is located in the Bardez locality of Panaji and is one of the favourites. If you are someone who enjoys unwinding with good food and music alongside the gushing waves, then this should be your checkout. Baga Beach witnesses a huge footfall daily. Thanks to this, quite a few beach shacks and live snacks kiosks have opened up to cater to one's hunger cravings. The shacks and kiosks offer wonderful seafood and later, turns into lively discos by the evening. This place is among the most loved and visited spots and you will also find quite a few mentors walking with their pets here early in the morning.
Candolim Beach
Candolim is among the moderately crowded beaches in Goa and is, therefore, serene. This is a perfect spot to spend some recreational time with your friends. Since I made my trip here solo, I tried one of their water sports service, parasailing and had an amazing experience. If you love adventure just like me, Candolim is then a perfect spot where you can satisfy the adventurous self within you. Several adventure activities are conducted on this beach, some of which include parasailing, snorkelling, banana ride and jet skiing. You can choose your preferred one and have a good time in Goa. Since it is a part of the famous beach trio, Candolim's coast has also witnessed some of the finest beach parties and concerts.
Calangute Beach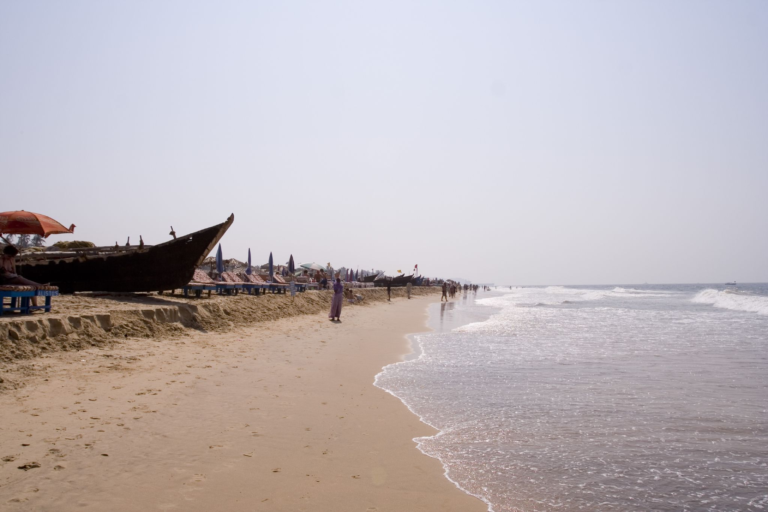 Adorned with shimmering golden sands along the coastline, Calangute Beach is often referred to as the 'Queen of Beaches' in Goa. With a stupendously beautiful cascade, this beach serves as a popular hub for all tourists in Goa. Tropical retreats blended into a perfect amalgamation with commercial expertise along a magnificent backdrop of the blue waters is what attracts tourists majorly here. Besides, the setting sun in the evening is a start whistle to numerous temporary shops along the beach which are collectively known as the Calangute Market. From funky clothes to trendy jewellery and hip accessories, you can find almost everything here. I got myself a pair of earrings and shoes since I was quite captivated by the collection. Also, the lights and atmosphere of the Market were quite alluring to my senses.
Also read: Best Places to Visit and Things to Do in Thailand
Vagator Beach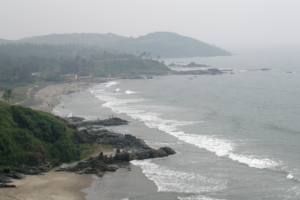 Situated in North Goa, Vagator Beach is a spot you must not miss. Serving a beautiful facade of rocky and hilly terrain mixed into the dark sands of the Vagator coastline, this beach is often considered to be nature's wonder. When I say "dark sands", it is not for mere literary significance, but the sands in Vagator are darker than those of the other beaches in Goa. The headland in the seaside is a convenient parking space for vehicles and is engulfed with shops selling a variety of trinkets and food items. Vagator is mostly surrounded by foreign tourists due to the less crowd and chaos. While here, do not miss out on Ozran Beach or the Mini Vagator Beach and the Chapora Fort in Bardez.
Morjim Beach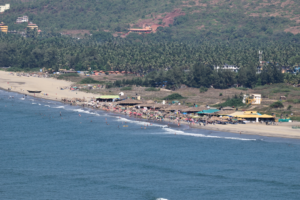 This one is one of my personal favourites. With scattered pieces of rocks and boulders all over the coastline, Morjim Beach is perfect if you are looking for peace and calm. It has not gained eminence among the tourists as a popular spot and thus remains comparatively quiet and empty. You may not find a whole lot of bustling markets or shacks on this beach. However, since it is a favourite among couples and nature lovers, you might end up stumbling upon random hawkers selling local snacks. The shore is known for a whole lot of nesting zones for the Olive Ridley turtles and you might also be lucky enough to come across one. Morjim Beach also houses a whole lot of rare sea birds, some of them being the Kingfisher, SandPiper, Sand-Plover and Cuckoos. This place is ideal for unwinding after a hectic, chaotic day of touring Goa.
Hopefully, you have chalked your favourites and have added them to your itinerary. If yes, then why wait longer? Head to this paradisical land right away and enjoy a panoramic view of Goa from its pristine beaches.